Comparison of brush and biopsy sampling methods of the ileal pouch for assessment of mucosa-associated microbiota of human subjects
Received: 8 October 2013
Accepted: 15 January 2014
Published: 14 February 2014
Abstract
Background
Mucosal biopsy is the most common sampling technique used to assess microbial communities associated with the intestinal mucosa. Biopsies disrupt the epithelium and can be associated with complications such as bleeding. Biopsies sample a limited area of the mucosa, which can lead to potential sampling bias. In contrast to the mucosal biopsy, the mucosal brush technique is less invasive and provides greater mucosal coverage, and if it can provide equivalent microbial community data, it would be preferable to mucosal biopsies.
Results
We compared microbial samples collected from the intestinal mucosa using either a cytology brush or mucosal biopsy forceps. We collected paired samples from patients with ulcerative colitis (UC) who had previously undergone colectomy and ileal pouch anal anastomosis (IPAA), and profiled the microbial communities of the samples by sequencing V4-V6 or V4-V5 16S rRNA-encoding gene amplicons. Comparisons of 177 taxa in 16 brush-biopsy sample pairs had a mean R2 of 0.94. We found no taxa that varied significantly between the brush and biopsy samples after adjusting for multiple comparisons (false discovery rate ≤0.05). We also tested the reproducibility of DNA amplification and sequencing in 25 replicate pairs and found negligible variation (mean R2 = 0.99). A qPCR analysis of the two methods showed that the relative yields of bacterial DNA to human DNA were several-fold higher in the brush samples than in the biopsies.
Conclusions
Mucosal brushing is preferred to mucosal biopsy for sampling the epithelial-associated microbiota. Although both techniques provide similar assessments of the microbial community composition, the brush sampling method has relatively more bacterial to host DNA, covers a larger surface area, and is less traumatic to the epithelium than the mucosal biopsy.
Keywords
MicrobiomeUlcerative colitisMucosal biopsyCytology brushMicrobial samplingMucosal brushingMicrobiome methods
Background
In recent years, clinical research has highlighted the important role of commensal gut microbes in human health. The gut microbiota not only plays a major role in health, but also in the etiopathogenesis of complex immune disorders such as inflammatory bowel diseases, type I diabetes, metabolic disorders, irritable bowel syndrome, and cancer [1–8]. Most studies of human gut microbial communities rely on the non-invasive collection of stool samples. While this has proven informative, analyses of the fecal microbiota may miss opportunities to understand the role of the mucosa-associated microbes, which live in close proximity to the intestinal epithelium and may not be adequately represented in the luminal (fecal) samples. The mucosa-associated microbes may also play a more important role in diseases such as inflammatory bowel disease (IBD), where direct interactions likely occur between the host immune system and the microbes living in the mucus layer of the epithelium. The optimal approach for sampling the mucosa-associated microbiota has not yet been defined.
Studies of the mucosa-associated microbes in the gut typically make use of mucosal biopsies obtained during endoscopic procedures. While individual biopsies present minimal risk, repeated biopsies, particularly in an individual with underlying bowel inflammation, can lead to bleeding and infection. Additionally, mucosal biopsies include only a small surface area and can therefore lead to sampling bias, especially for rare taxa, if the bacterial populations have a patchy distribution. Mucosal biopsies frequently contain a large proportion of contaminating host DNA, which complicates metagenomic and other molecular analyses.
In contrast, mucosal brushing reduces the risks associated with mucosal biopsies and provides a more representative sampling of the mucosal surface. Mucosal brushings obtained during an endoscopic procedure are less invasive than mucosal biopsies. They have the advantage of covering a larger surface area of the bowel than a biopsy. Furthermore, brushings do not remove attached epithelium and subsequently should have a smaller proportion of host cells.
We prospectively followed patients with a history of ulcerative colitis (UC) who had undergone total proctocolectomy with ileal pouch anal anastomosis (IPAA). In an effort to identify an accurate but less invasive sampling method of the mucosal-associated microbiota, we sought to determine whether mucosal brushings are a comparable sampling method to the mucosal biopsy. To test whether the two techniques provide equivalent sampling of the mucosa-associated microbiota, we performed paired samplings using both brush and biopsy sampling in a subset of subjects of our larger IPAA patient cohort. To understand the variation due to sampling technique as opposed to variation inherent in the DNA amplification and sequencing, we also evaluated the reproducibility of technical replicates by independently reamplifying and resequencing 25 samples.
Results and discussion
Overview of the pouch microbiota
Following reinstitution of the fecal stream through the ileal pouch, there is an evolution of the microbiota as the community begins to take on features more similar to those of the healthy colonic microbial community [9]. In the present study, we sampled the pouch microbiota at different time points at various states of health and disease (inflammation of the pouch). The ten most abundant taxa across all samples include (in order): Bacteroides, Lachnospiraceae (genus unknown), Clostridium, Enterobacteriaceae (genus unknown), Blautia, Roseburia, Epulopiscium, Peptostreptococcaceae (genus unknown), Acidaminococcus and Streptococcus. Together, the six most abundant taxa represent an average of 70% (± 10%) of taxa across the samples, and the top ten together represent 82 ± 3.5%. The variation of microbial composition is quite large across the samples, with Bacteroides, the most abundant taxon, ranging from 0 to 60% (25 ± 23%) and Lachnospiraceae ranging from 9.5%-34% (20 ± 8%). Intriguingly, although the standard deviation of the abundance of the top ten taxa ranges from 3.2 to 23, the coefficients of variation (standard deviation/mean) are all equal to 16, implying a similar relative variation for all of these taxa. The Chao alpha diversity estimates for these samples averaged 39 (range: 25–96), but included a very broad range of confidence limits from 22 to 410, implying that the minimum sample size of 2,023 is not adequately characterizing many of these communities. Fortunately, all but 3 of the 32 data sets had more than 5,000 high-quality reads.
Taxon-specific statistical analyses
None of the taxa had a false discovery rate of q ≤ 0.05 with either Student's t-test or the Wilcoxon rank sum test; hence, no taxa exhibit statistically significant variation between the two methods. We used LEfSe to confirm our results. LEfSe identified no discriminative taxa between brush and biopsy samples.
Correlation analysis for sample pairs
The 16 brush-biopsy pairs (samples using both techniques from the same patient on the same visit) had a mean genus-level Pearson R
2
of 0.94 ± 0.04, with all but two sample pairs having an R
2
greater than 0.90 (Figure
1
). This demonstrates that the taxon-by-taxon abundances are highly reproducible between the two methods. The 25 technical replicate pairs (same DNA extraction, but independent PCR amplification and sequencing) had a mean Pearson R
2
of 0.99 ± 0.01, with all pairs having an R
2
 > 0.93, demonstrating excellent reproducibility of the rRNA gene amplification and of the DNA sequencing across the Roche GS FLX Titanium and Illumina MiSeq platforms. Sample 206–16 months is an outlier in our analysis (R
2
 = 0.66). There could be many reasons for this, including heterogeneity of the pouch, imperfect sample collection, or minor contamination of the sample during processing. Unfortunately, we did not have sufficient DNA remaining to repeat the amplification and sequencing and verify the result.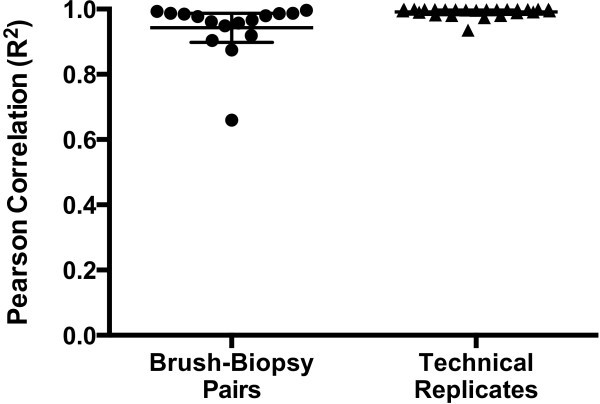 Community distance metrics
The UPGMA clustering dendrogram analysis of the brush-biopsy pairs shows that 3 of the 16 pairs (206–16 months, 207–20 months, and 210–20 months) did not form a clade together as would be expected. This would suggest differences between sampling methods in these samples. Based on our taxonomic evaluation, however, this does not represent a consistent bias between the two methods. If these three pairs were excluded, all other sample pairs did appear in the same clade (Figure
2
A). The dendrogram contains many short inter-pair branch lengths for patients 207 and 210, implying that pouch microbiota at these patient visits were very similar.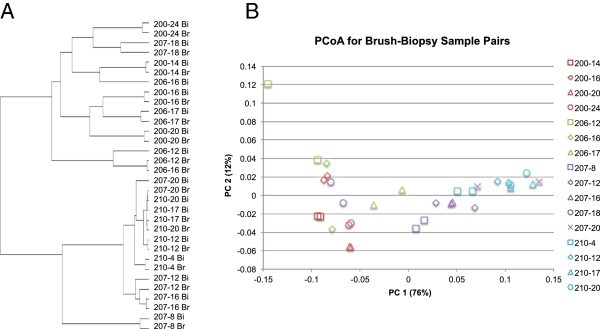 We illustrate these same results in a PCoA plot (Figure 2B). The average pairwise distance of brush-biopsy pairs is 0.07 ± 0.09, including the outlier 206–16 (distance = 0.34). The samples of pair 206–12 appear different, but their pairwise distance is only 0.16. While several of the samples do not appear to cluster exclusively by pair, these data represent multiple visits from only four patients who have recently undergone a similar major surgery, and their pouch microbiome is quite consistent across many of the visits. In other words, the samples are so similar that despite the reproducibility of the sampling methods, multiple pairs cluster together. Overall, the biopsy and brush methods fall into the same group of samples. Dendrogram and PCoA plots do not provide information about specific taxa that might differ across the sampling methods, but they are commonly used in microbiome analyses. Our combined results demonstrate that brush and biopsy sampling methods provide similar sample clustering results.
Bacterial DNA yields
While the taxa represented by the two sampling methods are similar, brush sampling yields an improved ratio of bacterial DNA to human DNA (Figure
3
). The average fold difference between brush and biopsy samples for the bacterial signal (normalized to human) was 21.2-fold higher for patient 200 and even greater for the other three patients: 100.7-fold for patient 206, 99.7-fold for patient 207, and 441.3-fold for patient 210. The large variation in ratio of bacterial to human DNA is likely caused by a variation in the fecal matter, which can sometimes be very watery and thin, dominated by mucus, or can be more characteristic of a full stool sample with a large bacterial load.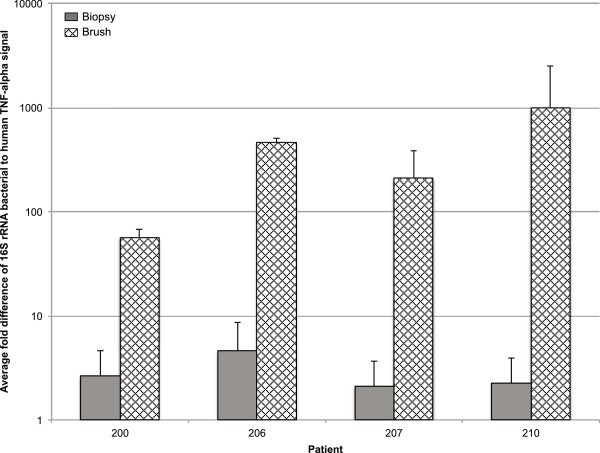 Nonetheless, the favorable bacterial to human DNA ratio is a boon for metagenomic and other analyses that require separating host from microbiome sequences and for low biomass samples where DNA extraction and amplification have very low yields.
Conclusions
These data show that mucosal brushings and mucosal biopsies provide comparable results for sampling the mucosa-associated microbiota in the pouch of UC patients. Paired samples showed a 0.94 Pearson product–moment correlation (R2). We detected no statistically significant taxonomic differences attributable to the sampling method. The impact of the sampling technique on the patient, however, is quite different. Repeated biopsies traumatize the epithelium, whereas mucosal brushings are less invasive and carry minimal to no risk, an attractive feature to both institutional review boards and patients. Brush samples also offer clear advantages in providing a much higher ratio of bacterial DNA to host DNA and sampling from a much larger surface area, which should provide better representation of rare taxa and of a heterogeneous mucosal layer, as can occur in IBD patients.
Our study also demonstrates that technical replicates (independent rRNA gene amplification and sequencing from the same DNA extraction) correlate nearly perfectly (R2 = 0.99).
Our samples derive from the small bowel epithelium of the ileal pouch. While most samples for microbial analysis come from the colon, our prior work has shown that the microbial community of the pouch in healthy individuals is similar to that of the healthy colon [9]. We believe our findings will be applicable to studies of the small bowel and the colon, but additional research is required to verify this.
Although great progress has been made in understanding the role of the microbiota in health and disease, longitudinal studies with repeated sampling of microbial communities over time increase the ability to identify potential causal relationships. Targeted sampling of the mucosa-associated microbiota has relied primarily on biopsies taken during endoscopy. Looking forward, our results may help with the innovation of alternative sampling methods of the mucosa-associated microbiome. Repeated endoscopy is cost prohibitive and invasive. An anoscope with a cytology brush, on the other hand, can easily sample the mucosa-associated microbiome during an office visit. As was the case with our flexible sigmoidoscopic exams, there would be no need for bowel preparation, which can distort the natural complement of mucosa-associated microbiota.
Availability of supporting data
The trimmed and quality-filtered sequences have been uploaded to the Visualization and Analysis of Microbial Population Structures website (VAMPS) (http://vamps.mbl.edu) [20] where they are publicly available under project names VBY_BRBI_Bv6v4 and VBY_BRBI_Bv4v5. Raw sequences are also available through the NCBI, BioProject ID PRJNA46315. Note that the sample names included in this publication have been modified to reflect the number of months the patients has been included in the study. The archived sample names are based on visit number. The sample numbers for patient 200, months 14, 16, 20, 24 are 200_14, 200_8, 200_9, 200_10. Sample numbers for patient 206 months 12, 16, 17 are 206_7, 206_8, 206_12. Sample numbers for patient 207 months 8, 12, 16, 18, 20 are 207_6, 207_7, 207_8, 207_12, 207_9. Sample numbers for patient 210, months 4, 12, 17, and 20 are 210_5, 210_7, 210_8, and 210_9. The letters "E" and "F" designate biopsy samples, and "GG" designates brush samples.
Abbreviations
IBD:

Inflammatory bowel disease
IPAA:

Ileal pouch anal anastomosis
PCoA:

Principle coordinate analysis
UC:

Ulcerative colitis
UPGMA:

Unweighted pair group method with arithmetic mean
VAMPS:

Visualization and analysis of microbial population structures website.
Declarations
Acknowledgements
Funding for this project came from an NIH Human Microbiome Project Demonstration Project Award (UH2/3 DK083993) to VBY, EBC, and MLS, NIDDK DK 42086 (University of Chicago Digestive Disease Research Core Center), DK097268 (EBC), DK47722 (EBC), Crohn's Colitis Foundation of America Career Development Award (LER), and the Leona M. & Harry B. Helmsley Charitable Trust (EBC, LER).
Authors' Affiliations
(1)
Department of Pathology and Laboratory Medicine, Brown University, Providence, USA
(2)
Department of Internal Medicine, Division of Infectious Diseases, Ann Arbor, USA
(3)
Department of Microbiology and Immunology, University of Michigan Medical School, Ann Arbor, USA
(4)
Josephine Bay Paul Center, Marine Biological Laboratory, Woods Hole, USA
(5)
Institute for Genomics and Systems Biology, Argonne National Laboratory, Argonne, USA
(6)
Department of Medicine, Section of Gastroenterology, The University of Chicago, Knapp Center for Biomedical Discovery, Chicago, USA
(7)
Department of Internal Medicine, Division of Gastroenterology and Hepatology, Mayo Clinic, Rochester, USA
Copyright
© Huse et al.; licensee BioMed Central Ltd. 2014
This article is published under license to BioMed Central Ltd. This is an Open Access article distributed under the terms of the Creative Commons Attribution License (http://creativecommons.org/licenses/by/2.0), which permits unrestricted use, distribution, and reproduction in any medium, provided the original work is properly credited. The Creative Commons Public Domain Dedication waiver (http://creativecommons.org/publicdomain/zero/1.0/) applies to the data made available in this article, unless otherwise stated.