Structure and function of the healthy pre-adolescent pediatric gut microbiome
Received: 21 May 2015
Accepted: 12 August 2015
Published: 26 August 2015
Abstract
Background
The gut microbiome influences myriad host functions, including nutrient acquisition, immune modulation, brain development, and behavior. Although human gut microbiota are recognized to change as we age, information regarding the structure and function of the gut microbiome during childhood is limited. Using 16S rRNA gene and shotgun metagenomic sequencing, we characterized the structure, function, and variation of the healthy pediatric gut microbiome in a cohort of school-aged, pre-adolescent children (ages 7–12 years). We compared the healthy pediatric gut microbiome with that of healthy adults previously recruited from the same region (Houston, TX, USA).
Results
Although healthy children and adults harbored similar numbers of taxa and functional genes, their composition and functional potential differed significantly. Children were enriched in Bifidobacterium spp., Faecalibacterium spp., and members of the Lachnospiraceae, while adults harbored greater abundances of Bacteroides spp. From a functional perspective, significant differences were detected with respect to the relative abundances of genes involved in vitamin synthesis, amino acid degradation, oxidative phosphorylation, and triggering mucosal inflammation. Children's gut communities were enriched in functions which may support ongoing development, while adult communities were enriched in functions associated with inflammation, obesity, and increased risk of adiposity.
Conclusions
Previous studies suggest that the human gut microbiome is relatively stable and adult-like after the first 1 to 3 years of life. Our results suggest that the healthy pediatric gut microbiome harbors compositional and functional qualities that differ from those of healthy adults and that the gut microbiome may undergo a more prolonged development than previously suspected.
Keywords
Healthy gut microbiomePediatricWGS16S rRNA
Background
The gastrointestinal (GI) tract is home to one of the largest, most diverse human-associated bacterial communities. More than "fellow travelers," our gut microbiota are essential to digestion and nutrient acquisition, intestinal development and motility, and modulation of the immune system [1–3]. Further, emerging research suggests that the gut microbiome may be intimately linked to brain development and behavior [4].
The human GI microbiome is dynamic and shaped by multiple factors, including the aging process. Previously thought to be sterile until birth, the human microbiome may be seeded in utero [5, 6]. The GI microbiome changes rapidly during infancy and early childhood and may be shaped by delivery mode, diet, antibiotics, and other exposures [7, 8]. Although many of these factors continue to influence GI communities as we age, the healthy adult gut microbiome is generally considered to be stable until older age (e.g., 65–100 years), which is characterized by declines in microbiome stability and function [9–11].
Despite recognition that the gut microbiome plays important roles in development, immunity, and health outcomes later in life [12, 13], information regarding the structure and function of the gut microbiome during childhood is limited and has focused mainly on stark comparisons related to diet and/or biogeography [14, 15]. Although it has been suggested that the gut microbiome reaches a relatively stable, adult-like state after the first 1 to 3 years of life [15, 8, 16], other evidence indicates that it continues to develop into the teenage years [13, 17, 18].
It is thought that childhood may provide opportunities for microbiome interventions to promote health or prevent disease [12]. As such, it is vital to establish a baseline understanding of pediatric GI microbiome structure and function, the degree to which these vary among healthy children, and the extent to which specific microbial features are unique to childhood, as opposed to infancy, when digestive function is immature [19, 20], or adulthood, when presumed to be mature. The goals of this study were to describe gut microbial composition and functional potential in healthy, pre-adolescent children and compare them with healthy adults. Thus, we compared matched 16S rRNA gene and shotgun metagenomic profiles of healthy children from Houston, TX, and adults recruited at the Human Microbiome Project's (HMP) [21] Houston-based clinical site.
Discussion
Although it is recognized that the gut microbiome has the potential to change along with the development of its host, information regarding the structure and function of the gut microbiome in healthy children remains limited. Previous studies have focused mainly on bacterial composition in the context of diet and/or biogeography [15, 14], and these have relied heavily on 16S data. Likewise, other adult versus pediatric comparisons have emphasized the stark contrasts of infant and adult GI communities [15, 16] rather than the more subtle contrasts of adults versus older children, have been limited to a single family [22], or have included teenagers [15, 23], despite evidence of microbiome shifts at other body sites during puberty [24, 25].
Our results suggest that the gut microbiome of healthy, pre-adolescent children is species rich and functionally complex. At the phylum level, it is dominated by Bacteroidetes and Firmicutes and, on average, harbors significantly greater abundances of Firmicutes and Actinobacteria than are generally observed in healthy adults (Fig. 1). As in adults, the pediatric gut microbiome is characterized by gradients in the abundance of Bacteroidetes (B) and Firmicutes (F) and exhibits wide variation in the B:F ratio. While the B:F ratio tends to be lower in children than in adults, both groups display substantial variability in its values, which suggests that it may not be a particularly meaningful parameter with respect to the healthy pediatric gut microbiome.
The gut communities of healthy children share 35 to 46 % similarity (54 to 65 % dissimilarity) with one another when compared taxonomically (Fig. 2c), but they share far greater similarity when compared functionally. At the ortholog group level, children share approximately 90 % similarity with one another, and at the pathway level, they share >96 % similarity. Consistent with the high degree of functional conservation observed among healthy adults [21], this suggests that there is not likely to be a single, ideal taxonomic formulation for a healthy pediatric gut microbiome. Rather, healthy pediatric gut communities may be defined by ranges of taxon abundances, combinations of which yield highly similar functional potential.
A variety of factors, including diet, sex, race, ethnicity, and obesity, are known to shape and modify the microbial communities comprising the human microbiome [14, 21, 26]. Neither we nor the HMP specifically captured dietary information from our subjects. As such, we are unable to address the effects of diet on the pediatric gut microbiome or its comparison between children and adults. Likewise, it is possible that other unknown or unrecorded factors may have influenced our findings. However, with respect to factors known to influence the human microbiome, we did not find that sex contributed significantly to variation in gut microbiome structure or function among children. This is consistent with observations among healthy adults [27], as well as in a combined analysis of adults and children (Additional file 7: Figure S2). We found that race and ethnicity had small, but statistically significant, effects on gut community richness, as well as marginally significant effects on community composition and functional gene content. As observed in the HMP [21, 27], our results suggest that race and ethnicity may contribute to variation in the gut microbiome among children. The effects of race and ethnicity were smaller than those of age group, and given the limited distribution of our study participants among racial and ethnic groups, caution in the interpretation of these results is warranted.
Data from human and animal studies suggest that gut community structure and function may be influenced by obesity status [26, 28]. Our evaluation of BMI on the pediatric gut microbiome was limited by the number of underweight, overweight, or obese children in our study (Additional file 1: Table S1). Combined analysis of adults and children failed to find that BMI accounted for a significant proportion of the variation observed with respect to 16S-based OTUs, WGS-based species composition, KO groups, or KEGG pathways (Additional file 7: Figure S2). These results mirror those reported by Finucane et al. [29] who suggest that, at scales other than the phylum level, simple signatures of obesity may not be detectable in the human microbiome.
Because the adult microbiome data we used were produced independently of our pediatric data, it is possible that technical artifacts may have influenced the results reported here. As a precaution against this, we specifically utilized identical DNA extraction methods, 16S primers, sequencing protocols, and the same sequencing center as the HMP, as each of these factors may contribute to technical bias in 16S-based studies [30]. Although these steps may not have eliminated technical bias completely, we feel that the biological signals present in the data outweigh potential artifacts, particularly given that our 16S-based results were largely and independently confirmed by WGS; our results agree broadly with previous comparisons of adult and child gut microbial communities [13, 15, 17, 22], and the functional gene-based differences we observed mirror those reported in a previous comparison of younger versus older adults [11].
Our results support and extend a growing body of evidence suggesting that GI microbial communities undergo succession in concert with the maturation and development of their human hosts. Perhaps more importantly, our results also indicate that, although the pediatric gut microbiome is characterized by levels of taxonomic and functional richness that rival those found in healthy adults, both taxonomic and functional differences distinguish the gut microbial communities of healthy children and adults from one another. Whether evaluated on the basis of 16S-based OTUs or species detected in WGS libraries, similar or significantly greater numbers of taxa were found in the gut communities of children relative to adults (Additional file 8: Table S6). Differences detected with respect to Shannon diversity index values suggest that children's gut communities were significantly more complex than those of adults, which may reflect ongoing development. In contrast, adult communities were characterized by greater evenness (i.e., Simpson 1/D), which may reflect increased relative stability of the adult gut microbiome [9].
As reported in the study of a single family [22], we found that, on average, the gut communities of children shared a greater degree of similarity with those of other children than they did with those of adults (Fig. 2c). Likewise, the gut communities of healthy adults were more similar to those of other adults than they were to those of children. Contributing to these differences were the enrichment of Faecalibacterium spp. and Bifidobacterium spp. in children and the enrichment of Bacteroides spp. in adults. This particular pattern is frequently observed in studies of the human gut and aging [9, 13, 17, 31] and has also been described in the context of metabolic dysfunction and inflammation, where adults with poorer relative health tend to harbor fewer Faecalibacterium spp. and Bifidobacterium spp. and greater abundances of Bacteroides spp. [32] in their GI communities. Although the genus Bacteroides is often associated with leanness and other desirable health traits [26, 28], some of its members, including strains of Bacteroides fragilis, Bacteroides vulgatus, and Bacteroides dorei, have been linked to abdominal infections, metabolic disease, and inflammation in the context of celiac disease and other GI disorders [33, 34].
Beyond microbial composition, the gut microbiomes of healthy children also differ from those of adults in terms of functional potential. Although no single KO or pathway occurred uniquely among children or adults, we detected a small, but significant, enrichment (~6 %) in the number of gene families detected in children relative to adults. Aggregated at the pathway level, the relative abundances of approximately 25 % of KEGG pathways differed between children and adults, including some (Fig.
4b, c
) previously linked to host development, metabolic syndrome, and inflammation. The gene enrichment detected among children mirrors the high versus low gene count paradigm described by Le Chatelier et al. [
32
], and the differential distribution of functional gene families and pathways suggests the presence of a developmental gradient with respect to microbiome functional potential and relative maturity, akin to that described in the context of healthy versus malnourished, underdeveloped children in Bangladesh [
35
].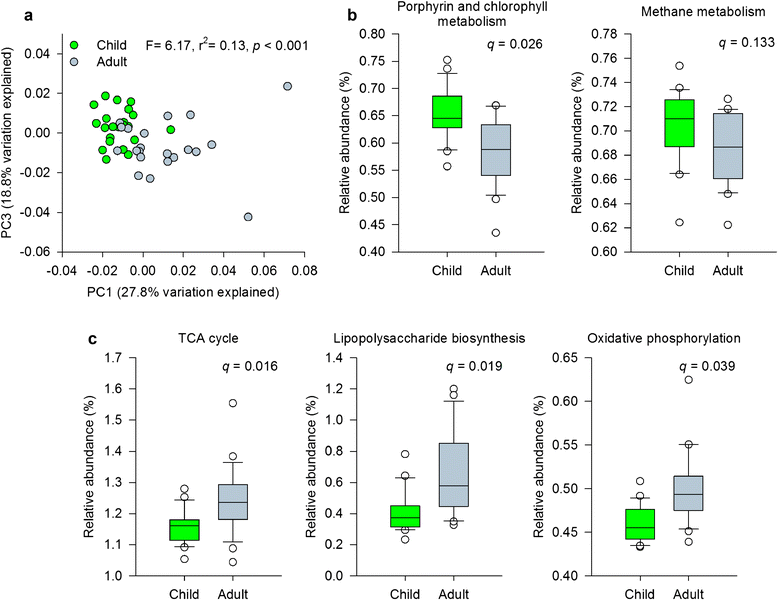 In previous work describing the human microbiome and development, the gut communities of infants and adults were found to differ with respect to dietary acquisition versus de novo synthesis of nutrients by gut microbes [15]. Infant communities were significantly enriched in genes involved in the de novo synthesis of folate (vitamin B9), an important nutrient supporting DNA synthesis, replication, and repair [36], and the maintenance of regulatory T cells [37], while adult communities were enriched in genes directed toward dietary utilization of folate [15]. Our results suggest that by the time children reach school age, their gut communities are still significantly enriched in genes involved in folate biosynthesis, but they do not differ with respect to the abundance of genes related to dietary folate utilization.
Adult communities have also been described as having greater potential than infants [15] to produce vitamin B12 (cobalamin), a microbially synthesized compound with anti-inflammatory and anti-oxidant benefits and essential for neurological function [38–40]. In contrast, we found that many genes involved in cobalamin biosynthesis were significantly enriched in children (Fig. 3a). Despite the fact that vitamin B12 is essential at all life stages [38, 39], its concentration in the body varies with age. Although adult blood concentrations of cobalamin exceed those found in infants, cobalamin reaches its lifetime peak around 7 years of age [41]. The coordinated peaks in potential gut microbiome cobalamin production and blood cobalamin levels during childhood suggest the potential for the gut microbiome to support host development, particularly given the importance of cobalamin for neurological function [41, 40].
As with cobalamin, we also observed that the gut communities of children were enriched with respect to the metabolism of the amino acids tyrosine, lysine, cysteine, and methionine. These amino acids serve as substrates for the production of biogenic amines and neurotransmitters, both of which function as critical links along the gut-brain axis. Evidence from animal models highlights the importance of the gut microbiome in brain development, learning, and behavior [4], and although increased potential for amino acid metabolism in pediatric GI communities may play into multiple aspects of host and/or microbiome function, it may also reflect the influence of the gut microbiome on brain development and plasticity [42].
In adults, gut communities were significantly enriched with genes involved in oxidative phosphorylation, lipopolysaccharide biosynthesis, flagellar assembly, and steroid hormone biosynthesis (Fig. 3b, Additional file 13: Table S10), pathways which have been described previously in the context of inflammation. This enrichment may be a function of the gut microbiota priming the immune system [43]. It may signal increased likelihood of obesity, adiposity, and/or metabolic disease [32, 44]. Or, it may be a sign of aging, as the development of chronic, low-grade inflammation occurs both in conjunction with adiposity-related co-morbidities and as a part of the aging process [45].
Multiple gene families and functions associated with the gut microbiome affect the balance between pro- and anti-inflammatory processes. Mirroring results described by Le Chatelier et al. [32], we found that the gut microbial communities of healthy children shared traits with those from "high gene count" (i.e., healthy) individuals and were significantly enriched or showed trends toward enrichment of functions associated with anti-inflammatory properties, including vitamin B12 synthesis (a key component of the KEGG pathway for porphyrin and chlorophyll metabolism) and methane metabolism (Fig. 4b). In contrast, healthy adult gut communities shared many traits with "low gene count" individuals (i.e., those with low-grade inflammation and increased incidence of metabolic disorders [32]) and were significantly enriched in genes and gene families associated with inflammation and exposure to oxidative stress, including lipopolysaccharide biosynthesis, the tricarboxylic acid (TCA) cycle, and oxidative phosphorylation (Fig. 4c). These results extend previous work [11] describing the gut microbial communities of younger adults as possessing fewer pro-inflammatory traits than those of older adults and suggest that healthy children fall even lower on the pro-inflammatory scale. Further, they imply that "inflammaging" [9, 45] may not be limited to the later adult years.
Conclusions
As with other developmental processes, childhood appears to represent a unique transitional stage with respect to the gut microbiome. Although the healthy pediatric gut microbiome harbors several adult-like features, it also retains many of its own distinct compositional and functional qualities. Such characteristics could contribute to age-adjusted definitions of the healthy gut microbiome, serve as diagnostic biomarkers to delineate life stage and direct appropriate medical treatment, and be important to consider in the development of microbiome-directed therapies, particularly those targeted toward microbiome restoration.
Abbreviations
BMI:

body mass index
GI:

gastrointestinal
HMP:

Human Microbiome Project
KO:

KEGG orthologous gene family
OTU:

operational taxonomic unit
PCoA:

principal coordinates analysis
RDP:

Ribosomal Database Project
TCA:

tricarboxylic acid
WGS:

shotgun metagenomic sequencing
Declarations
Acknowledgements
This work was supported by the National Institute of Diabetes, Digestive, and Kidney Diseases (UH2 DK093990 and UH3 DK083990 to JV), the National Center for Complementary and Integrative (R01 AT004326 to JV), the National Cancer Institute (U01 CA170930 to JV), the National Human Genome Research Institute (U54 HG004973 to RG), the National Institute of Nursing Research (R01 NR05337 and R01 NR013497 to RJS), and the Daffy's Foundation (to RJS). Computational support was provided by the Bioinformatics Research Laboratory Core at Baylor College of Medicine, directed by Aleksandar Milosavljevic. The authors also thank Yue Shang, Delphine Saulnier, and Tulin Ayvaz for their efforts in specimen extraction and sequence library preparation.
Open Access This article is distributed under the terms of the Creative Commons Attribution 4.0 International License (http://creativecommons.org/licenses/by/4.0/), which permits unrestricted use, distribution, and reproduction in any medium, provided you give appropriate credit to the original author(s) and the source, provide a link to the Creative Commons license, and indicate if changes were made. The Creative Commons Public Domain Dedication waiver (http://creativecommons.org/publicdomain/zero/1.0/) applies to the data made available in this article, unless otherwise stated.
Authors' Affiliations
(1)
Department of Pathology & Immunology, Baylor College of Medicine, Houston, USA
(2)
Department of Molecular & Human Genetics, Baylor College of Medicine, Houston, USA
(3)
Department of Pediatrics, Baylor College of Medicine, Houston, USA
(4)
Department of Molecular Virology & Microbiology, Baylor College of Medicine, Houston, USA
(5)
Bioinformatics Research Laboratory, Baylor College of Medicine, Houston, USA
(6)
Texas Children's Microbiome Center, Department of Pathology, Texas Children's Hospital, Houston, USA
(7)
Children's Nutrition Research Center, Houston, USA
(8)
Pediatric Gastroenterology, Hepatology, and Nutrition, Texas Children's Hospital, Houston, USA
(9)
Human Genome Sequencing Center, Baylor College of Medicine, Houston, USA
(10)
Alkek Center for Metagenomics and Microbiome Research, Baylor College of Medicine, Houston, USA