The first microbial environment of infants born by C-section: the operating room microbes
Received: 1 September 2015
Accepted: 29 October 2015
Published: 1 December 2015
The Erratum to this article has been published in Microbiome 2016 4:4
Abstract
Background
Newborns delivered by C-section acquire human skin microbes just after birth, but the sources remain unknown. We hypothesized that the operating room (OR) environment contains human skin bacteria that could be seeding C-section born infants.
Results
To test this hypothesis, we sampled 11 sites in four operating rooms from three hospitals in two cities. Following a C-section procedure, we swabbed OR floors, walls, ventilation grids, armrests, and lamps. We sequenced the V4 region of the 16S rRNA gene of 44 samples using Illumina MiSeq platform. Sequences were analyzed using the QIIME pipeline. Only 68 % of the samples (30/44, >1000 sequences per site) yielded sufficient DNA reads to be analyzed. The bacterial content of OR dust corresponded to human skin bacteria, with dominance of Staphylococcus and Corynebacterium. Diversity of bacteria was the highest in the ventilation grids and walls but was also present on top of the surgery lamps. Beta diversity analyses showed OR dust bacterial content clustering first by city and then by hospital (t test using unweighted UniFrac distances, p < 0.05).
Conclusions
We conclude that the dust from ORs, collected right after a C-section procedure, contains deposits of human skin bacteria. The OR microbiota is the first environment for C-section newborns, and OR microbes might be seeding the microbiome in these babies. Further studies are required to identify how this OR microbiome exposure contributes to the seeding of the neonatal microbiome. The results might be relevant to infant health, if the current increase in risk of immune and metabolic diseases in industrialized societies is related to lack of natural exposure to the vaginal microbiome during labor and birth.
Keywords
Operating RoomHuman Microbiome ProjectBacterial ContentSkin MicrobiotaIllumina MiSeq Platform
Background
The mother is an important source of the first microbiome for infants [1]. Regardless of the possible in utero exposure to bacterial components [2, 3], mammals are exposed during labor to a dense vaginal inoculum that is later subjected to the selective pressure of milk components with prebiotic effects. These exposures, which are likely adaptive, are altered in mammalian infants born by C-section who lack vaginal exposure during birth.
We have previously shown that C-section born infants acquire skin-like bacteria (Staphylococcus, Corynebacterium, and Propionibacterium) at birth [4]. The source of this human skin microbiota that first seeds C-section born infants remains unknown. Humans shed up to 37 million bacterial genomes into the environment per hour [5, 6]. Operating rooms (ORs) are occupied by humans, lack natural ventilation, and, regardless of the efficacy of cleaning, are expected to be highly enriched with human skin bacteria [7–10]. In this work, we characterized bacterial contents in dust collected from ORs.
Methods
We sampled several sites in ORs immediately following C-section procedures and identified bacterial contents in dust collected with sterile swabs, using 16S rRNA gene sequencing. In addition, we used standard culturing methods to determine the presence of live bacteria in OR dust deposits.
Results
Of the 44 OR samples collected, 68 % (30/44, >1000 sequences per site) had a sufficient number of DNA sequences to be analyzed (Additional file 2: Table S1). A total of 367,086 sequences (paired-end, Phred ≥ Q20) were obtained from these samples, and the average sequence number per sample was 12,236 ± 5171. These sequences were binned into 3638 types of OTU (Additional file 3: Table S2). And, Blank swabs (n = 3) had 53 sequences, consisting 15 genus-level taxa (<6 sequences per OTU, Additional file 4: Table S3).
Notably, all analyzed samples (
n
 = 30) contained human skin bacteria with dominance of
Staphylococcus
and
Corynebacterium
(Fig.
1a
). While there were no correlations of bacterial composition by sampling sites, lamps (on the operating bed and baby crib) showed higher relative abundances of
Staphylococcus
and
Corynebacterium
than other sites (Kruskal–Wallis test,
p
 < 0.05; Fig.
1a
). Ventilation grids for air return contained the highest bacterial diversity, followed by wall samples nearest the floor, floors, and the top of lamps over the operating bed with non-statistical tendency (Additional file
5
: Figure S2). Moreover, live bacteria (
Staphylococcus
) were grown on blood agar plates, using standard plating methods, from swabs of the tops of operating room lamps (Additional file
6
: Table S4).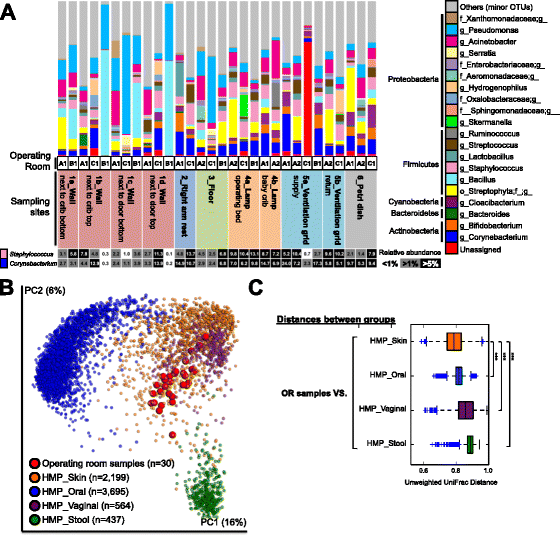 In addition, the microbiota of OR samples was more similar to human skin microbiota (HMP database; non-parametric t test using unweighted UniFrac distance, p < 0.001; Fig. 1b, c) compared to other body sites (oral, feces, vaginal). Consistently, we detected human skin flake-like cells in OR samples using microscopic observation with H/E and Pan-keratin staining (Additional file 7: Figure S3), suggesting dust from ORs contains deposits of human skin flakes that could be a carrier of live human skin bacteria.
Based on our SourceTracker analyses, the skin microbiota of infants born by C-section has a high proportion of bacteria from the OR compared to vaginally born infants, whose skin microbiota has a low proportion of OR bacteria and a high proportion of maternal vaginal bacteria (volar; p < 0.05, t test, Additional file 8: Figure S4).
Bacterial beta diversity on principal coordinates analysis (PCoA) plot showed that microbes clustered separately according to hospital (Additional file 9: Figure S5) in addition to clustering by city (non-parametric t test using unweighted UniFrac distances, p < 0.05; PERMANOVA, p < 0.1). OR "A2" showed more convergence in bacterial community structure than other ORs (non-parametric t test using unweighted UniFrac distances, p < 0.005; Additional file 9: Figure S5C). Weighted UniFrac distance matrix results also supported these results (Additional file 10: Figure S6).
There were no significant differences in alpha diversity between hospitals (Additional file 11: Figure S7), but environmental taxa differentiating hospitals included Bacteroides, Shuttleworthia, Acinetobacter, Ruminococcus, Bacillus, Hyphomicrobium, Helcococcus, and Hydrogenophilus (by abundance; Additional file 9: Figure S5E and Additional file 12: Figure S8).
While there was no significant segregation between bacterial communities by sampling site, the microbiota from ORs showed a non-significant tendency toward clustering between the top or bottom of the walls and floors (Additional file 13: Figure S9).
Discussion and conclusions
While modern operating rooms are expected to have aseptic environments, several studies have already reported microbial presence in ORs using culture-dependent methods, pulse-field gel electrophoresis, fluorescent particle counting, and adenosine triphosphate (ATP) testing [10, 20, 21]. In the present study, we used 16S rRNA gene sequencing to show that OR dust, collected right after a C-section procedure, contains bacteria similar to human skin microbiota. Previous studies using culture-dependent methods also showed that over 85 % of air samples from ORs had skin-like bacteria which were mostly coagulase-negative staphylococci and Corynebacterium [10]. These airborne skin-bacteria could be from individuals present during C-section but could also be shed by cleaning personnel between operations.
In our study, ~30 % of samples failed to yield sufficient DNA sequences to be analyzed. While there are no published data on the microbiota in operating rooms using 16S rRNA gene sequencing, very few bacteria (average 3.3–3.5 CFU/10 cm2) were detected in ORs after regular decontamination using standard culturing methods [22, 23], consistent with the low sequence numbers in our study. However, there was variation between two ORs from the same hospital, with similar wall materials and hygiene procedures (e.g., A1 walls yielded higher bacterial sequences than A2 walls). Sampling and hygiene procedure timings may have had an effect on the detected sequence numbers. Further studies are needed to elucidate the dynamics of indoor environmental conditions like the ongoing Hospital Microbiome Project [24] and associated variations in the microbial content of hospital environments.
The top of OR lamps, which are hard to reach and clean, have deposits of dust containing live skin bacteria, which when moved by the surgeon, might create a bacterial plume that sheds on the newborn. Petri dishes placed on the floors collected particles with similar relative abundances to skin bacteria, suggesting that ORs have airborne skin bacteria that accumulate on surfaces. Patient warming systems in general surgery rooms generate air convection currents that circulate resident air from the floor up to the ceiling [25], which may also help circulate airborne bacteria in ways independent from transfer by direct contact [26].
In addition, we found that the microbiota of OR samples was more similar to human skin microbiota than oral microbiota and that OR dust contains deposits of human skin flakes. These results reveal that while the use of surgical masks has limited effectiveness at curtailing oral microbial shedding [27], skin flakes from individuals present during C-section and/or from cleaning personnel between operations could be a more influential factor contributing to the structure of OR microbiota.
Our SourceTracker analysis results suggest that the OR microbes could play a role in seeding infants born by C-section. C-section born infants, in particular, may be solely receiving this inoculum, while vaginally born infants have exposure to vaginal bacteria. The results of these further studies could be relevant to the possible effects on the priming of the immune system by skin bacteria from environmental sources as the primordial inoculum seeding the infant microbiome. This might be relevant to the increased risk of immune diseases observed in C-section born infants [28, 29].
Abbreviations
HMP:

Human Microbiome Project
OR:

operating room
OTU:

operational taxonomic unit
PCoA:

principal coordinates analysis
Declarations
Acknowledgements
We thank Elizabeth Bakacs, Edward Hennis, Dr. Ming C. Tsai, and Noraliz Garcia for the support in sampling operating rooms from the hospitals. We also thank Joseph Szmulewicz for the sample staining for microscopy. Research reported in this publication was supported in part by the National Cancer Institute, National Institute of Allergy and Infectious Diseases, and National Institute of Dental and Craniofacial Research of the National Institutes of Health under award numbers UH3CA140233, U01CA182370, R01CA159036, R01AI110372, and R21DE025352. ZP is a Staff Physician at the Department of Veterans Affairs New York Harbor Healthcare System. The content is solely the responsibility of the authors and does not necessarily represent the official views of the National Institutes of Health, the US Department of Veterans Affairs or the United States Government. We thank the Sloan Foundation for their support to pioneer studies, including ours, on the microbiology of the built environment.
Open AccessThis article is distributed under the terms of the Creative Commons Attribution 4.0 International License (http://creativecommons.org/licenses/by/4.0/), which permits unrestricted use, distribution, and reproduction in any medium, provided you give appropriate credit to the original author(s) and the source, provide a link to the Creative Commons license, and indicate if changes were made. The Creative Commons Public Domain Dedication waiver (http://creativecommons.org/publicdomain/zero/1.0/) applies to the data made available in this article, unless otherwise stated.
Authors' Affiliations
(1)
Division of Translational Medicine, New York University School of Medicine, New York, USA
(2)
Department of Veterans Affairs New York Harbor Healthcare System, New York, USA
(3)
Hospital Universitario, Medical Science Campus, University of Puerto Rico, Puerto Rico, USA
(4)
School of Architecture, University of Puerto Rico, Puerto Rico, USA