In-depth resistome analysis by targeted metagenomics
Received: 13 March 2017
Accepted: 17 December 2017
Published: 15 January 2018
Abstract
Background
Antimicrobial resistance is a major global health challenge. Metagenomics allows analyzing the presence and dynamics of "resistomes" (the ensemble of genes encoding antimicrobial resistance in a given microbiome) in disparate microbial ecosystems. However, the low sensitivity and specificity of available metagenomic methods preclude the detection of minority populations (often present below their detection threshold) and/or the identification of allelic variants that differ in the resulting phenotype. Here, we describe a novel strategy that combines targeted metagenomics using last generation in-solution capture platforms, with novel bioinformatics tools to establish a standardized framework that allows both quantitative and qualitative analyses of resistomes.
Methods
We developed ResCap, a targeted sequence capture platform based on SeqCapEZ (NimbleGene) technology, which includes probes for 8667 canonical resistance genes (7963 antibiotic resistance genes and 704 genes conferring resistance to metals or biocides), and 2517 relaxase genes (plasmid markers) and 78,600 genes homologous to the previous identified targets (47,806 for antibiotics and 30,794 for biocides or metals). Its performance was compared with metagenomic shotgun sequencing (MSS) for 17 fecal samples (9 humans, 8 swine). ResCap significantly improves MSS to detect "gene abundance" (from 2.0 to 83.2%) and "gene diversity" (26 versus 14.9 genes unequivocally detected per sample per million of reads; the number of reads unequivocally mapped increasing up to 300-fold by using ResCap), which were calculated using novel bioinformatic tools. ResCap also facilitated the analysis of novel genes potentially involved in the resistance to antibiotics, metals, biocides, or any combination thereof.
Conclusions
ResCap, the first targeted sequence capture, specifically developed to analyze resistomes, greatly enhances the sensitivity and specificity of available metagenomic methods and offers the possibility to analyze genes related to the selection and transfer of antimicrobial resistance (biocides, heavy metals, plasmids). The model opens the possibility to study other complex microbial systems in which minority populations play a relevant role.
Keywords
Antimicrobial resistanceResistomeMetagenomicsDifferential abundance analysisTargeted metagenomics
Background
Antimicrobial resistance is considered a major global health challenge that has been recently included in the agendas of major international bodies [1]. The adoption of measures to address the antibiotic resistance crisis [2] is impaired by the controversy over what resistance is and how and where it should be detected and analyzed [3–5].
Metagenomic methods are increasingly being used to analyze the ensemble of genes that may encode antibiotic resistance in various microbial ecosystems, which are defined as the resistome [6–17]. An important hurdle confronting current resistome analyses is low sensitivity in the detection of minority populations harboring resistance genes (often present at concentrations below the detection level of the methods used) [18] and/or low specificity in the identification of allelic variants that might confer different susceptibility phenotypes [19]. Such requirements are needed for prioritizing risks of antibiotic resistance genes in metagenomes in terms of public health [20, 21].
The challenge of achieving a sensitive and specific identification of genes influencing antibiotic resistance in a complex metagenome background parallels the difficulties found by scientists studying human inherited diseases years ago [20]. In that case, the limitations of available sequencing technologies were overcome by using capture-based or targeted sequencing strategies of all protein-coding regions (exome). Such approaches reduced the number of sequences to be screened, and therefore represented a cost- and time-effective and high-throughput alternative to the metagenomic technologies for analyzing exomes [22, 23]. In-solution targeted capture platforms (TCPs) also provide technical improvements over array-based platforms and other genome-partitioning approaches in terms of scalability, cost-effectiveness, and enhanced data quality, including lower variance in target coverage, more accurate single nucleotide polymorphism [SNP] calling, higher reproducibility and better quality assembly [24]. Although TCPs are mostly used for the diagnosis of human inherited diseases [25], the methodology offers tremendous potential for boosting advances in environmental and ecological studies which requires the isolation of sequences of interest from a mixture of DNA from a complex community of organisms [26].
This study reports the development and validation of the first TCP for the analysis of bacterial resistomes, which was designated ResCap (for Resistome Capture). We show that ResCap could significantly improve the sensitivity and specificity over previous metagenomic analysis in the detection of antibiotic resistance. ResCap also allows the analysis of the presence and diversity of genes conferring resistance to other antimicrobials (heavy metals and biocides), which are frequently co-selected with antibiotic resistance genes and genes from replicons of mobile genetic elements (such as plasmids). An ad hoc advanced bioinformatics pipeline, developed in parallel, exploits the capabilities of ResCap for comparative metagenomic analysis. The metagenomic approach described here paves the way for a future series of applications in the studies directed to the identification, epidemiological surveillance, ecology, and study of evolutionary trajectories of resistance genes in complex microbial environments.
Results
ResCap performance was compared with MSS in two ways. First, by applying a reference-based approach that maps metagenome reads against specific databases (AbR, metals and biocides, and relaxases). Second, by applying a reference-free approach that assembles metagenomic reads and performs a functional annotation. The results of these evaluations appear below.
Reference-based evaluation
This section addresses how the abundance and diversity of resistance genes (ResCap or those already validated) were calculated.
ResCap achieves better recovery of target genes than MSS
An average of 1.9 × 10
7
paired reads was obtained from the MSS and ResCap datasets (0.92–3.2 × 10
7
). The on-target average (the number of reads mapping on the target genes relative to the total read number) against the selected databases (see "Methods") was 0.11% (0.07–0.18) for MSS data and 30.26% (20.27–41.83%) for ResCap data, which represents an enrichment of 279-fold (Table
1
).
Table 1
Summary of mapping results. Comparison of ResCap against MSS technology. The mapping ratios (on-target value) were extracted from the number of reads mapped (SAM files) divided by the total number of reads. The "gain values" are the results of dividing ResCap on-target value by the MSS on-target value
Sample

Metagenome shotgun sequence MSS

ResCap

Gain

N° reads

AbR

BacMet

Rel

Total

N° reads

AbR

BacMet

Rel

Total

Bichat1

14,127,290

0.05%

0.002%

0.04%

0.10%

16,705,789

19%

0.48%

5.22%

24.68%

244.24

Bichat2

15,128,135

0.05%

0.028%

0.04%

0.12%

33,589,838

12%

5.56%

2.98%

20.27%

170.81

Bichat3

14,488,245

0.05%

0.005%

0.03%

0.09%

17,276,637

34%

2.31%

5.96%

41.83%

480.59

Bichat6

17,476,666

0.07%

0.001%

0.05%

0.12%

19,191,320

25%

0.85%

5.84%

32.13%

261.87

Bichat7

16,732,926

0.07%

0.002%

0.05%

0.13%

28,530,922

27%

0.33%

5.99%

33.60%

267.77

Bichat9

17,058,000

0.03%

0.013%

0.05%

0.09%

18,038,257

14%

10.59%

7.55%

31.80%

336.29

Bichat10

15,039,883

0.03%

0.066%

0.06%

0.15%

34,798,281

6%

28.81%

5.48%

40.63%

265.17

Bichat11

13,425,077

0.03%

0.091%

0.06%

0.18%

35,901,508

5%

26.73%

4.72%

35.98%

201.67

Bichat13

17,903,872

0.05%

0.023%

0.06%

0.14%

26,283,052

16%

13.27%

7.39%

36.85%

270.02

F266

19,557,955

0.06%

0.005%

0.02%

0.08%

14,024,345

21%

4.62%

2.57%

28.23%

337.50

PIG20

27,375,311

0.08%

0.028%

0.01%

0.12%

22,485,364

18%

16.20%

1.81%

36.38%

298.23

PIG26

13,831,057

0.07%

0.005%

0.02%

0.10%

15,756,070

19%

3.88%

2.73%

25.93%

271.20

PIG29

18,945,765

0.09%

0.018%

0.02%

0.12%

26,223,850

18%

10.26%

2.52%

30.65%

248.31

PIG31

12,778,294

0.07%

0.010%

0.02%

0.09%

18,055,019

13%

5.76%

2.08%

20.77%

219.12

PIG528

19,689,471

0.06%

0.003%

0.02%

0.08%

13,864,257

21%

2.70%

3.11%

26.83%

323.23

PIG94

15,985,219

0.07%

0.004%

0.02%

0.10

15,351,408

18%

2.57%

3.31%

24.05%

240.20

PIG96

9,290,402

0.06%

0.001%

0.01%

0.07%

12,225,935

21%

1.13%

1.67%

23.84%

320.90
The analysis of gene abundance, expressed in reads per kb per million reads (RPKMs), demonstrates a better recovery of gene coding for resistance to antibiotics, heavy metals, biocides, and relaxases (plasmid genes), when using ResCap compared against MSS. Figure
3a
represents the RPKMs inferred before (MSS) and after capture (ResCap) for all the samples analyzed, and Additional file
3
shows the gain plots for each sample. Most canonical genes (99.3%, 1.339/1.348) detected by MSS were also detected with ResCap.

Furthermore, a significant portion of genes detected by ResCap (42%, 975/2323), was not detected by MSS. The linearity of the system was evaluated by using a linear regression model for the genes only detected in each paired sample (MSS vs. ResCap). An R2 mean of 0.813 (0.85–0.99) shows a good match between both protocols.
The enrichment of canonical resistance genes when using ResCap was similar in samples from humans and swine. Further, the observed differences in the relative abundance of genes encoding resistance to antimicrobials (antibiotics, heavy metals, biocides) and relaxases in various samples (Fig. 3b, c) could be explained by the variability of microbiota from different hosts [50, 51].
ResCap addresses gene diversity
Allele redundancy of some resistance genes hinders the correct estimation of gene diversity and precludes a correct estimation of gene abundance in metagenomes when using most available metagenomic tools. To overcome this issue, we defined a mapping gene cluster (MGC) as a group of alleles/genes detected by the same set of reads and normalized such MGCs by the total number of sequencing reads per each sample expressed in millions of reads (MGC Per Million or MPM) in order to use it as unit of diversity that allow us comparing different samples. The number of MPMs increased 1.3-fold in humans (0.7–1.74, p-value 2·10−1) and 2.1-fold (2.3–1.9, p-value 2·10−4) in swine when using ResCap instead of MSS (Fig. 3b, c).
As an increase in reads per MGC does not imply a homogeneous distribution of the reads, we also determined the
gene horizontal alignment coverage
, which was defined as the fraction of a gene that is covered by reads, as well as the number of reads per nucleotide or
gene depth coverage
. These parameters determine the probability of identifying an allele-specific mutation by unequivocally mapping reads. Figure
4
shows how the horizontal gene alignment coverage obtained with MSS improves with ResCap from 73.4 to 97.5%, (35.9–94.8% vs. 66–99%). Most genes were almost fully covered by reads, with a general increase in gene depth coverage [Additional file
4
]. Consequently, the number of genes unequivocally detected by ResCap was almost double that of MSS (
n
= 26, range 17.1–30.0 genes per sample per million of reads vs.
n
= 14.9, range 12–17.6 genes per sample per million of reads, respectively). The number of reads unequivocally mapped increased up to 300-fold (2 · 10
5
for ResCap vs. 8 · 10
2
for MSS) (Fig.
5
).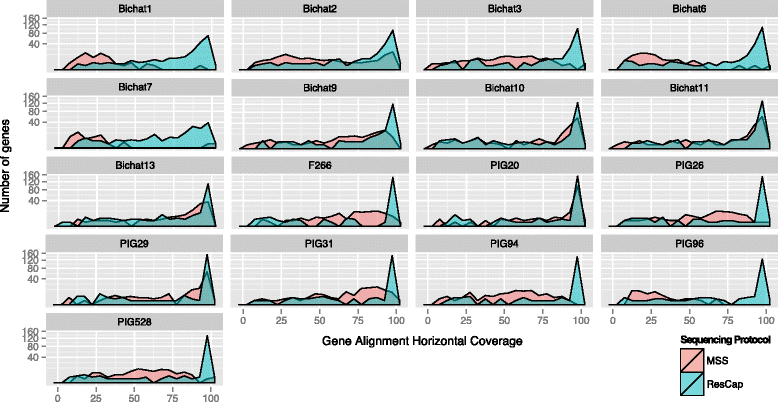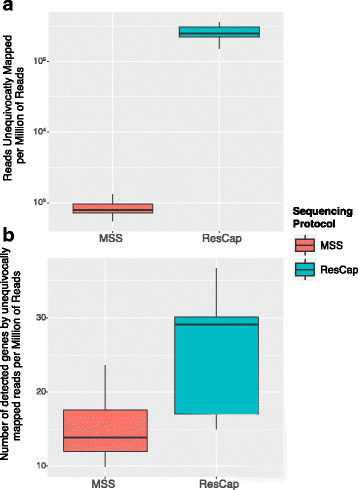 Figure
6
shows the abundance (RPKMs) and diversity (MPMs) obtained by ResCap and MSS for individual categories of resistance genes (antibiotics, biocides and metals), which also illustrates the improved sensitivity of ResCap vs. MSS. Additional file
5
reflects that although both ResCap and MSS can track the most abundant gene families as those conferring resistance to beta-lactams, macrolides, aminoglycosides and tetracyclines followed by those conferring resistance to phenicols and sulfonamides, many canonical resistance genes were only detected by the ResCap platform (e.g.,
mecA
and
blaZ
in beta-lactams;
ermA, ermC, ermD, erm33
, and
lnu
in macrolides;
fexA, catA
, and
catB
alleles in phenicols). Genes encoding resistance to fluoroquinolones, glycopeptides or trimethoprim, families of first-line antibiotics used to treat community and hospital-based infections, were barely detected using MSS but were unequivocally detected with ResCap (e.g.,
dfrA16, dfrA15, dfrG
, and
dfrK
among those conferring resistance to trimethoprim;
oqxAB, qnrB
, and
qnrS
among those producing resistance to quinolones; and
vanB, vanA
for glycopeptide resistance). ResCap also detected more genes conferring resistance to heavy metals (e.g. cadmium, copper, silver and mercury) and relaxases, which are markers of plasmid families that carry antibiotic resistance genes (MOB
C
, MOB
F
, MOB
P1
, MOB
P2
)[Additional files
6
,
7
, and
8
].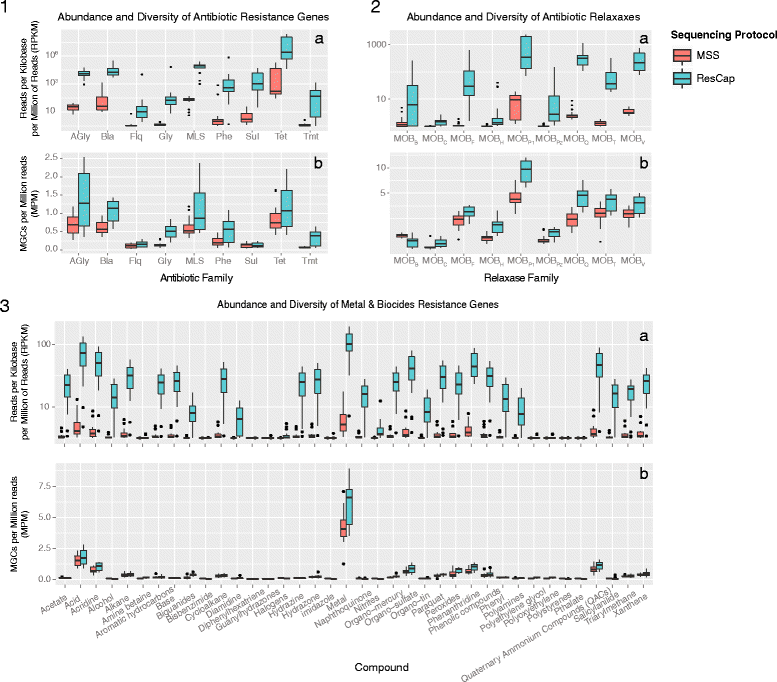 The robustness of the platform was ascertained by using replicates of swine samples. The correlation between replicates measured by Pearson's linearity model test was 0.98 (p value 2.2 · 10−16) and 0.89 (p value 2.2 · 10−16), respectively [Additional file 9]. This result is within the range specified by NimbleGene for other SeqCapEZ capture platforms.
Comparative analysis of resistomes from various samples
In order to further demonstrate the improvements of using ResCap over MSS, we compared the resistomes of human and swine samples to estimate the relative abundance of MGCs by using these two methodological approaches. Volcano plots in Fig.
7a
show a general view of the relative abundance of MGCs for each dataset (AbR, metal and biocide, and relaxases) and each method. MGCs for antimicrobials were more abundant in swine samples than humans while those for relaxases were predominant in human resistomes (represented as positive and negative
p
values, respectively, expressed in log
2
in the
x
-axis). The figure also reflects the higher number of MGCs detected by ResCap than by MSS and the improvement of the
p
values.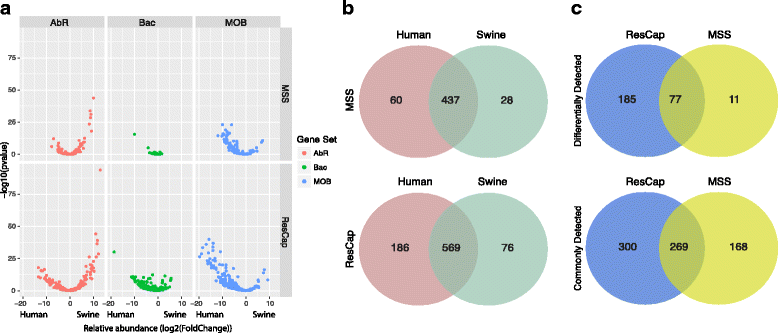 Figure 7b represents the distribution of the MGCs in different hosts by using MSS and ResCap. Using MSS, the resistome of the total samples analyzed comprises 525 MGCs, 88 MGCs being differentially detected (60 MGCs from humans and 28 MGCs from swine), and 437 being commonly detected in these hosts. Conversely, ResCap detected 831 MGCS, 262 classified as differentially detected (186 from humans and 76 from swine) and 569 as commonly detected. The data reflects a 3-fold increase in the number of MGCs using ResCap in comparison with MSS.
Figure 7c compares the results obtained by ResCap and MSS for both the differentially detected and the commonly detected MGCs in different hosts (262 vs. 88, and 569 vs. 437, respectively).
Of all the MGCs differentially detected (262 by ResCap plus 88 by MSS), 185 were only differentially detected by ResCap, 77 were differentially detected by both approaches, and 11 were only differentially detected by MSS. The average of reads used for the statistical test of these 11 MGCs was 18 using MSS (ranging from 6.02 to 78.3 reads) and 2907 using ResCap (ranging from 1884 to 3947 reads), which make us to suggest these 11 MGCs could be potential false positives.
Of all MGCs commonly detected in both types of hosts (569 by ResCap and 437 by MSS), both methods detected 269 MGCs while 300 MGCs were only detected by ResCap and 168 MCGs were only detected by MSS. Again, the low number of useful reads might explain the higher p values of MSS over ResCap and identify this set of MGCs as common MGCs between humans and swine.
Reference-free evaluation
Assembly statistics and coverage show that the information obtained with the ResCap platform only covers the small portion of the metagenome to which the platform has been designed (Fig.
8
). The genes detected were classified in the ResCapDB, UniProtKB, and novel categories (see "
Methods
" for definition of each category).

ResCap in comparison with MSS, improves not only the number of the detected canonical genes included in known databases (Arg-ANNOT [
27
], BACMet [
30
], and ConjDB [
33
]) as shown in previous sections, but also the number of detected ResCapDB, UniProtKB, or novel homologs as presented in Fig.
9
(ResCap
UniProtKB
752 ± 237 genes vs. MSS
UniProtKB
237 ± 107 for humans, and ResCap
UniProtKB
441 ± 71 genes vs. MSS
UniProtKB
82 ± 46 for swine; ResCap
Novel genes
, 79 ± 38 genes vs. MSS
Novel genes
20 ± 7107 for humans, and ResCap
Novel genes
105 ± 26 genes vs. MSS
Novel genes
9 ± 4 for swine)
.
In addition, Additional file
2
shows the better resolution of ResCap expressed by number of blast hits per gene per megabase. The actual role of these genes in antibiotic resistance will require functional validation that is beyond the scope of the current study. However, their identification as
bona fide
resistance genes as well as the analysis of changes in their abundance upon antibiotic challenge might have a significant impact on further studies on the evolution of antibiotic resistance.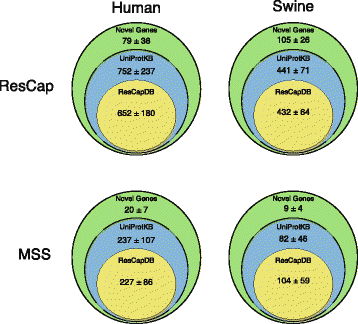 Discussion
This study reports the development of a novel targeted gene capture platform, ResCap, and its comparative evaluation with MSS in resistance gene identification using a collection of human and swine fecal samples. The results show that ResCap is suited for high-resolution analysis of resistomes and offers the possibility to detect genes homologous to known resistance genes, which will allow performing further comprehensive analyses on the diversity and the evolution of antibiotic resistance [17].
ResCap also provides several technical advantages to study resistomes in comparison with current metagenomic methods. First, the enrichment of ResCap resides in its targeted metagenomics approach, which significantly increases the recovery of resistance gene sequences. Our results indicate that the resistome represents barely 0.2% of the gut metagenome. As a consequence, MSS would need at least 3.75 · 109 reads per sample to reach a similar coverage to that obtained by using ResCap (average of 1.9 · 107 paired reads, which represents a relative enrichment of 279×). Second, the tiling of capture probes greatly facilitates the higher level of horizontal gene alignment coverage of ResCap as compared to MSS, resulting in increased specificity. Third, ResCap's ability to detect previously unrecognized DNA fragments with homology to canonical resistance genes will facilitate the discovery of novel genes potentially involved in antimicrobial resistance. In case they were selectable, such novel genes would be enriched in the presence of antimicrobials, an important point to be tested during clinical trials. In addition, ResCap is of interest in public health, because it allows a more accurate risk ranking analysis [21] of the genes within the resistomes of various microbiota. Finally, the substantial capacity of the platform (200 Mb) makes ResCap extensible up to 2-fold of its current capacity, providing opportunities for updating the platform with probes for newly published resistance genes or for resistance genes added to resistance gene databases. ResCap updates will be publicly available through the GitHub repository (https://github.com/valflanza/ResCap) and the NimbleGene webpage. Nonetheless, the threshold of ResCap detection remains unknown due to the lack of a negative control that demonstrates the ability of ResCap to pick antibiotic resistance genes from quantified minority populations (e.g., mock genomic populations). Although appropriate, the complexity and variability of the metagenomic samples makes it difficult to use a good negative control for this type of study.
The parameters to express "gene abundance" and "gene diversity" allow comparing the resistomes of various samples. Relative abundance parameters are widely used in computational analysis of MSS datasets but require specialized statistics, because these compositional parameters are influenced by the variability in metagenomes of different samples. The novel "mapping gene cluster" (MGC) concept allows to provide a set of normalized variables that can be measured in terms of abundance and diversity among samples. Furthermore, MGC permits the evaluation of diversity within and among various functional groups (in our case, families of antibiotics, groups of genes conferring resistance to heavy metals or biocides and plasmid relaxases). To date, few quantitative metagenomic approaches to analyze resistomes are available, and they do not achieve this level of accuracy [14, 16].
Because of its sensitivity, specificity, and the possibility to compare results between samples, ResCap complies with the needs of public health epidemiology of antibiotic resistance that include (i) the detection of antibiotic resistance threats in various microbial environments [52, 53]; (ii) the need for implementation of accurate risk assessment studies based on resistome analysis in healthy humans, hospitalized patients, animal husbandry, the food industry, and the environment [52, 54]; (iii) the quality control of sewage and water body decontamination of antibiotic resistant genes [5, 54]; (iv) the update and refining of the list of resistance genes to be considered in monitoring the adverse effects of drugs in microbiomes, including pharmacomicrobiomic applications in clinical trials; (v) the close monitoring of the efficacy of microbiome reconstitution/rebiosis, whether through targeted probiotic live culture administration or fecal microbiota transplantation, to alleviate the adverse impact of antibiotic administration; and (vi) to analyze the effect of eco-evo drugs and strategies to combat antibiotic resistance [55].
Conclusions
This study constitutes the first description of targeted metagenomics to analyze antimicrobial resistance. ResCap, the novel capture platform developed, allows meeting the challenge of analyzing samples with a complex and heterogeneous mix of genes in low and high concentration DNA samples with a high level of specificity and to further explore the presence of novel genes. Thus, ResCap-like approaches might also be used to identify other sequences in minority bacterial populations that are part of complex microbial systems, such as virulence determinants, key ecological traits involved in biosynthesis or biodegradation, or relevant genes of biotechnological interest.
Declarations
Acknowledgements
We are grateful for the technical support of Susana Ovalle-Andreu, Genomics Unit, Madrid Science Park (https://fpcm.es/en), Cantoblanco, Madrid, Spain.
Funding
This study was supported by the European Commission, Seven Framework Program (EVOTARFP7-HEALTH-282004 for VFL, FB, JLM, AA, DE, ER, RJLW, WvS, FdlC, and TMC), the Joint Programming Initiative in Antimicrobial Resistance (JPIAMR Third call, STARCS, JPIAMR2016-AC16/00039 to TMC, RJLW, WvS), the Joint Programming Initiative in Water (JPI Water StARE JPIW2013-089-C02-01 to JLM) and the Ministry of Economy and Competitiveness of Spain (BIO2014-54507-R to JLM, and PLASWIRES-612146/FP7-ICT-2013-10 and BFU2014-55534-C2-1-P for FdlC). The authors also acknowledge the European Development Regional Fund "A way to achieve Europe" (ERDF) for co-founding the Spanish R&D National Plan 2012-2019 (BIO2014-54507-R to JLM, PI15-0512 to TMC, PI15-00818 to FB, and BFU2014-55534-C2-1-P to FdlC), CIBER (CIBER in Epidemiology and Public Health, CIBERESP; CB06/02/0053 to FB), the Spanish Network for Research on Infectious Diseases (REIPI RD12/0015 to JLM) and the Regional Government of Madrid (InGeMICS- B2017/BMD-3691). Val F. Lanza was further funded by a Research Award Grant 2016 of the European Society for Clinical Microbiology and Infectious Diseases (ESCMID). Additional funding was from the Metagenopolis grant ANR-11-DPBS-0001 to DE.
Availability of data and materials
Metagenomic sequencing data was deposited in the NCBI Bioproject database (accessions: PRJNA371649 and PRJNA371647). Homemade scripts, raw data tables, and databases are available at https://github.com/valflanza/ResCap. The designs of ResCap platform and the NimbleGene ID are available upon request to the authors.
Authors' contributions
TMC, FB, and JLM designed the study, participated in the analysis of data, and wrote the manuscript. VFL developed the platform design and the bioinformatics tools, participated in the analysis of data, and wrote the manuscript. RR designed the sequencing workflow and participated in the revision of the manuscript. FdlC participated in the design of the study, the analysis of data, and the revision of the manuscript. AS-V, BG-Z, and AA provided expertise and participated in the collection and/or preparation of the samples. DE, SK, ER, WvS, and RJW provided expertise and participated in the revision of the manuscript. All authors read and approved the final version of this manuscript.
Ethics approval and consent to participate
Clinical samples were used after obtaining the approval of the study by the Institutional Review Board of the Hospital Bichat, and all written informed consents from the enrolled subjects, in compliance with national legislation and the Code of Ethical Principles for Medical Research Involving Human Subjects of the World Medical Association (Declaration of Helsinki).
Consent for publication
Not applicable.
Competing interests
The authors declare that they have no competing interests.
Publisher's Note
Springer Nature remains neutral with regard to jurisdictional claims in published maps and institutional affiliations.
Open Access This article is distributed under the terms of the Creative Commons Attribution 4.0 International License (http://creativecommons.org/licenses/by/4.0/), which permits unrestricted use, distribution, and reproduction in any medium, provided you give appropriate credit to the original author(s) and the source, provide a link to the Creative Commons license, and indicate if changes were made. The Creative Commons Public Domain Dedication waiver (http://creativecommons.org/publicdomain/zero/1.0/) applies to the data made available in this article, unless otherwise stated.
Authors' Affiliations
(1)
Department of Microbiology, Ramón y Cajal University Hospital, Ramón y Cajal Health Research Institute (IRYCIS), Madrid, Spain
(2)
Joint Unit of Antibiotic Resistance and Bacterial Virulence associated with the Spanish National Research Council (CSIC), Madrid, Spain
(3)
Network Research Center for Epidemiology and Public Health (CIBER-ESP), Madrid, Spain
(4)
National Center of Biotechnology, CSIC, Madrid, Spain
(5)
Genomics Unit, Madrid, Spain
(6)
Faculty of Veterinary Medicine, Complutense University of Madrid, Madrid, Spain
(7)
IAME, UMR 1137, INSERM, Paris Diderot University, Sorbonne Paris Cité, Bacteriology Laboratory, Hospital Bichat, AP-HP, Paris, France
(8)
MGP MetaGénoPolis, INRA, University of Paris-Saclay, Jouy-en-Josas, France
(9)
Center of Host Microbiome Interactions, King's College, London, UK
(10)
Department of Medical Microbiology, University Medical Center, Utrecht, Netherlands
(11)
Department of Molecular Biology, University of Cantabria, Santander, Spain
(12)
Institute of Biomedicine and Biotechnology of Cantabria, IBBTEC (UC-CSIC), Santander, Spain
(13)
Present Address: Bioinformatics and Biostatistics HUB, C3BI and Biomics Pole, CITECH Pasteur Institute, Centre François Jacob, Paris, France
(14)
Present Address: Institute of Microbiology and Infection, University of Birmingham, Birmingham, UK