Metagenomic investigation of vestimentiferan tubeworm endosymbionts from Mid-Cayman Rise reveals new insights into metabolism and diversity
Received: 2 November 2017
Accepted: 19 January 2018
Published: 27 January 2018
Abstract
Background
The microbial endosymbionts of two species of vestimentiferan tubeworms (Escarpia sp. and Lamellibrachia sp.2) collected from an area of low-temperature hydrothermal diffuse vent flow at the Mid-Cayman Rise (MCR) in the Caribbean Sea were characterized using microscopy, phylogenetic analyses, and a metagenomic approach.
Results
Bacteria, with a typical Gram negative cell envelope contained within membrane-bound vacuoles, were observed within the trophosome of both tubeworm species. Phylogenetic analysis of the 16S rRNA gene and ITS region suggested MCR individuals harbored highly similar endosymbionts that were > 98% identical, with the exception of two symbionts that showed a 60 bp insertion within the ITS region. All sequences from MCR endosymbionts formed a separate well-supported clade that diverged from those of symbionts of seep and vent vestimentiferans from the Pacific, Gulf of Mexico, and Mediterranean Sea. The metagenomes of the symbionts of two specimens of each tubeworm species were sequenced, and two distinct Gammaproteobacteria metagenome-assembled genomes (MAGs) of more than 4 Mbp assembled. An Average Nucleotide Identity (ANI) of 86.5% between these MAGs, together with distinct 16S rRNA gene and ITS sequences, indicate the presence of multiple endosymbiont phylotypes at the MCR, with one MAG shared between one Escarpia and two Lamellibrachia individuals, indicating these endosymbionts are not specific to either host species. Genes for sulfur and hydrogen oxidation, nitrate reduction (assimilatory and dissimilatory), glycolysis and the Krebs cycle, peptide, sugar, and lipid transporters, and both rTCA and CBB carbon fixation cycles were detected in the MAGs, highlighting key and shared functions with symbiont metagenomes of the vestimentiferans Riftia, Tevnia, and Ridgeia from the Pacific. The potential for a second hydrogen oxidation pathway (via a bidirectional hydrogenase), formate dehydrogenase, a catalase, and several additional peptide transporters were found exclusively in the MCR endosymbiont MAGs.
Conclusions
The present study adds new evidence that tubeworm endosymbionts can potentially switch from autotrophic to heterotrophic metabolism, or may be mixotrophic, presumably while free-living, and also suggests their versatile metabolic potential may enable both the host and symbionts to exploit a wide range of environmental conditions. Together, the marked gene content and sequence dissimilarity at the rRNA operon and whole genome level between vent and seep symbionts suggest these newly described endosymbionts from the MCR belong to a novel tubeworm endosymbiont genera, introduced as Candidatus Vondammii.
Background
Vestimentiferan tubeworms (phylum Annelida) often thrive in invertebrate communities in marine hydrothermal vent and cold seep sites. As the first animals in which chemoautotrophic symbiosis was described, this discovery opened up a whole new area of biological research [1, 2]. Mouthless and gutless, the tubeworms are dependent on chemosynthetic bacterial symbionts that provide them with organic compounds and nutrition. The worm acquires all of the substrates needed for chemosynthesis, including oxygen, sulfide, and carbon dioxide, from seep or vent fluids mixed with seawater, and delivers them to the symbiotic bacteria for sulfide oxidation and autotrophy. The energy produced provides carbon for growth and metabolism to the worms [1, 2]. Symbionts are contained in bacteriocytes, which are specialized host cells in a highly vascularized internal organ termed the trophosome [3]. Although tubeworms are exposed to a plethora of diverse microbes in their environment, they associate with only specific Gammaproteobacteria [4]. Each tubeworm generation is newly colonized with its symbionts from the environment, highlighting efficient mechanisms for recognition, colonization, and host–symbiont interactions [4–7].
Chemosynthetic symbionts have never been isolated into pure culture. Therefore, cultivation-independent studies are essential for understanding the geographic distribution, diversity, metabolism, and evolution of symbionts. In particular, metagenomic studies can provide key information about the metabolic capacities of chemosynthetic symbiosis. With the first tubeworm metagenome-assembled genome, the name Candidatus Endoriftia persephone was proposed for the Gammaproteobacterial endosymbiont of the vent-associated tubeworm Riftia pachyptila [8]. Endoriftia has identical or nearly identical 16S rRNA gene sequences to the vent endosymbionts of the sympatric vestimentiferan Tevnia jerichonana and of the geographically distant Ridgeia piscesae and Oasisia alvinae [5, 6, 9], indicating widespread tubeworms establish symbioses with the same or closely related organisms. Recently, Klose and colleagues showed large numbers of viable symbionts are released upon host death, which could explain effective dispersal and colonization of new recruits to local and distant sites [10]. On the other hand, a comparative study between metagenome-assembled genomes of R. pachyptila, T. jerichonana, and newly obtained Ridgeia draft genomes shows symbiont populations are structured at Eastern Pacific spreading centers, with both geographic distance and host specificity playing important roles in the endosymbiont population structure [6].
Much less is known about the genomic content and distribution of endosymbionts of the tubeworm genera Escarpia and Lamellibrachia. Originally regarded as seep species and extensively studied in the Gulf of Mexico (GOM) and the Gulf of Guinea in West Africa [11, 12], these vestimentiferans have also been found in vent habitats in the Pacific along the Juan de Fuca Ridge at Middle Valley, Mariana Arc, Lau Basin [13], in the Mediterranean Sea [14], in Kagoshima Bay in Japan [15], and at ship wrecks and whale falls [16, 17], demonstrating a wide geographic distribution. Based on 16S rRNA gene analysis, Escarpia and Lamellibrachia symbionts from the GOM and the Mediterranean Sea share almost identical 16S phylotypes, although they cluster within a "seep" clade, distinct from the "vent" clade that includes Riftia, Oasisia, Tevnia, and Ridgeia [9, 13, 14].
Recently, the first tubeworms found in the Atlantic at hydrothermal vents, Escarpia sp. and Lamellibrachia sp.2, were discovered in an area of low-temperature diffuse hydrothermal vent flow at the Von Damm site of the Mid-Cayman Rise (MCR), an ultraslow spreading ridge located in the Caribbean Sea [18–21]. Von Damm is an ultramafic system located at a depth of about 2350 m, with end-member venting fluids up to 226 °C that are rich in sulfide, hydrogen, and methane (up to 3.2, 19 and 2.8 mM, respectively [22, 23]. The tubeworms were found at one diffuse vent area of Von Damm, named Shrimp Hole. This site is characterized as a large rock rubble area, with relatively warm fluids (21 to 50 °C), high pH (7.5), and 0.5 mM hydrogen sulfide [20, 21, 24]. Sulfur isotopic data from the Shrimp Hole tubeworms suggested symbioses that utilize hydrogen sulfide from microbial sulfate reduction, similar to other seep tubeworm species [21], while carbon isotopic data indicated use of dissolved inorganic carbon (DIC) source from both seawater and potentially from a thermogenic vent source of hydrocarbon (e.g., methane, ethane, and propane; [21, 22]).
In an analysis of the free-living microbial communities in diffuse vent fluids at Von Damm, MCR vent sites group together, with the exception of Shrimp Hole, which clustered with sediment sites of Guaymas Basin in the Pacific [24]. The most abundant archaeal and bacterial populations at Shrimp Hole were related to Methanosarcinales GOM Arc I group, first detected in sediments from a methane seep in the GOM [25], and to sulfate-reducing Desulfobulbaceae (Deltaproteobacteria), frequently found in methane-rich sediments together with ANMEs [26], respectively. Other invertebrate taxa sampled at Shrimp Hole, such as Bathymodiolus sp. mussels, or Thyasira sp. clams, are usually found at seeps [20]. Together, these results indicate the Shrimp Hole site at Von Damm has characteristics of both hydrothermal vents as well as sedimented seeps, thus providing a unique setting for examining microbial endosymbionts in tubeworm hosts.
Here, a cultivation-independent metagenomic approach was used to characterize and compare endosymbionts in the two Mid-Cayman Rise tubeworms species. These data, together with electron microscopy and 16S rRNA gene and ITS (internal transcribed spacer) sequence analyses, were used to describe the chemosynthetic endosymbionts and examine how they are related to their Pacific, Gulf of Mexico, and Mediterranean counterparts. These are the first reported metagenome-assembled symbiont genomes for vestimentiferans in the genera Lamellibrachia and Escarpia, and the first for tubeworms outside the Pacific Ocean.
Results
Microscopy and 16S rRNA gene and ITS analyses
As in other vent and seep vestimentiferans, numerous coccoid endosymbionts were observed using TEM in the trophosome tissue of the Escarpia and Lamellibrachia specimens. Although formalin fixation is not optimal for electron microscopy, the tissues were preserved well enough to see that the trophosome lobules contained numerous coccoid-shaped cells, ranging in diameter from 0.5 to 1.0 μm with cell envelopes resembling those of Gram-negative bacteria. An additional membrane was typically observed surrounding the symbionts, suggesting that as in other vestimentiferans symbioses, the bacteria are contained within membrane-bound vacuoles (Additional file 4A and B).
The phylogenetic relationships of the tubeworm symbionts were characterized by amplification, cloning, and sequencing of the 16S rRNA gene and ITS from the trophosome tissue of ten tubeworm specimens (five of each species; Table
1
). Three specimens (
Escarpia
MCR 200;
Lamellibrachia
MCR 192, 193) were removed from the 16S rRNA gene analysis due to short (< 700 bp) sequences. The 16S rRNA gene sequences of each of the seven remaining individuals had > 99% sequence identity over the entire length (ca.1370 bp), thus likely representing one 16S rRNA gene, or closely related haplotypes per individual. An analysis of these sequences showed four different 16S rRNA gene haplotypes that diverge by a maximum of 0.7% (Fig.
1a
). Haplotype 1 was shared by
Escarpia
(199, 689) and
Lamellibrachia
(387, 389) individuals, while
Escarpia
197, 195, and
Lamellibrachia
391 were represented by haplotypes 2, 3, and 4, respectively (Fig.
1a
).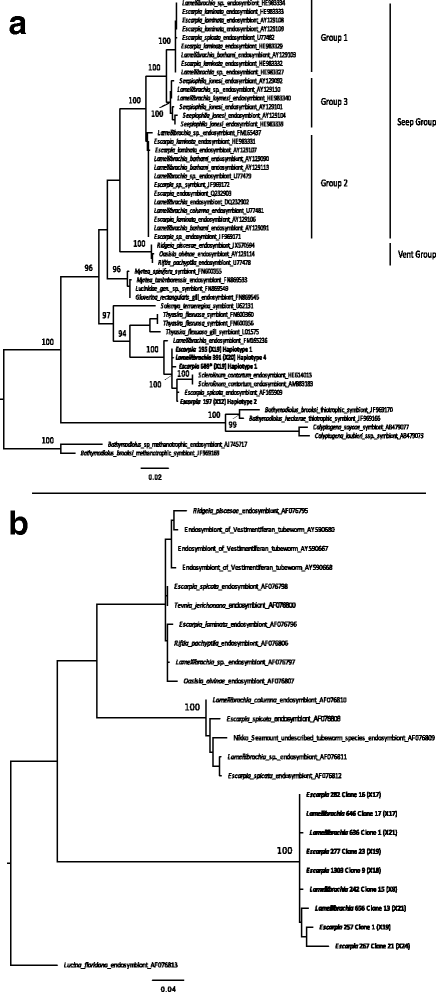 Phylogenetic analyses of the 16S rRNA gene revealed the endosymbiont of Escarpia spicata from the Guaymas Basin is the closest relative (AF165909; 99% sequence identity), with only 3 nucleotides' differences over a total alignment length of 1368 bp to haplotype 2. Closely related sequences to haplotypes 1, 3, and 4 are from the same endosymbiont of Escarpia spicata and another vestimentiferan (Sclerolinum contortum) endosymbionts (HE614013 from the Gulf of Mexico; 99% sequence identity, with a maximum of 18 nucleotides differences over a total alignment length of 1367 bp, and AM883183 from Norway, 99% sequence identity, maximum18 nucleotides differences over a total alignment length of 1367 bp) (Fig. 1a). A sister group consisted of symbionts from the marine bivalve Thyasira flexuosa (FN600359.1; 96% identity, 53 nucleotide differences with haplotype 1 over a length of 1359 bp). The endosymbionts of hydrothermal vent tubeworms Riftia pachyptila, Oasisia alvinae, and Ridgeia piscesae ("Vent Group") and the majority of the seep tubeworm symbionts (groups 1, 2, 3) were more distantly related (Fig. 1a; groups as described by Thiel et al. [14]).
Similar to the 16S rRNA gene analysis, the symbiont ITS sequences of each individual worm (nine specimens) had at least 99% sequence identity over 577 bp; thus, each individual was represented by a single or closely related phylotype. One specimen (Lamellibrachia MCR 193) was removed from the ITS analysis due to lack of amplification. When compared to each other, the different ITS phylotypes showed more than 98% sequence identity, with the exception of individuals Escarpia 195 and 197 which had a 60 bp insert between the sequences encoding the two tRNAs, Ile and Ala. Based on the ITS phylogenetic analysis, the endosymbionts formed a separate well-supported clade that diverged from other seep or vent vestimentiferan tubeworm endosymbiont sequences (Fig. 1b).
Metagenomic analysis
The genetic potential for sulfur oxidation of the different endosymbionts was identified in all MAGs by the presence of genes coding for dissimilatory sulfite reductase (dsrAB), an enzyme of both sulfur assimilatory and dissimilatory sulfate reduction (APS), as well as sulfate thiohydrolase (soxBXYZ), an essential component of the Sox multienzyme complex [43]. Genes for the complete respiration of nitrate to dinitrogen gas were also detected in all MAGs, including nitrate reductase (nar), nitrite reductase (nir), nitric oxide reductase (nor), and nitrous oxide reductase (nos). In addition, the potential for nitrogen assimilation was confirmed in all MAGs, with the presence of genes coding for glutamate synthase [44]. The genes encoding an uptake hydrogenase involved in the oxidation of molecular hydrogen ([NiFe] hydrogenase hyaA, hyaB, hybC) for energy generation was found in all MAGs. In addition, we detected an additional hydrogen oxidation pathway, as shown by the presence of the full set of genes coding for the bidirectional hydrogenases "NAD+-reducing hydrogenase subunits hoxHYUF" in the MCR MAGs only. A BLAST analysis showed these Hox genes were closely related to those from the free-living Gammaproteobacteria Sedimenticola selenatireducens [45]. Finally, a gene fragment encoding an NAD+-dependent formate dehydrogenase was also found exclusively in the two MCR symbiont MAGs.
In addition to metabolic pathways, we identified oxidative stress response genes in all endosymbiont MAGs, including genes encoding superoxide dismutase, alkyl hydroperoxide reductase subunit c-like protein, and thioredoxin reductase. A gene encoding a catalase was detected for the first time in tubeworm symbiont genomes in both MCR MAGs. Several genes encoding multidrug efflux pumps involved in the export of antibiotics and other toxic compounds from the cell were also detected across all seven genomes. We found several ABC transporters annotated as toxin or multidrug exporters that likely represent symbiont defense mechanisms against the host. Although type VI secretion system vgrg protein has only been in Ridgeia, several genes encoding secretion systems such as type I, II secretion systems, and general secretion pathway proteins a-n were found across all genomes. In addition, abc-type antimicrobial peptide transport system were found in all genomes. The autolysis response regulater lytr was found in all genomes. A gene for the exopolysaccharide production protein (pss) was only found in the MCR MAGs.
Discussion
This study allowed the first tubeworm endosymbiont metagenome-assembled genomes from either Lamellibrachia or Escarpia species to be characterized and compared to other tubeworm endosymbiont genomes. Earlier studies have shown genetic differences between tubeworm endosymbionts between seep and vent species at the 16S rRNA gene level [9, 14]. Our phylogenetic and genomic data show that Lamellibrachia and Escarpia symbionts from the Mid Cayman Rise share highly similar endosymbionts, which differ from other tubeworm endosymbionts, and in particular, from the well-described vent tubeworm endosymbionts from the Pacific (Figs. 1, 3 and 4). When compared to other seep-like symbionts, the tubeworm endosymbionts from the MCR formed a well-defined and separate clade at the ITS level and were distantly related from the seep tubeworms groups described by Thiel et al. [14] at the 16S rRNA gene level. They showed high sequence similarity with other symbionts. For instance, haplotype 2 showed 99% sequence similarity to endosymbionts from Escarpia spicata from the Guaymas Basin and was also closely related to the symbionts of the tubeworm Sclerolinum contorum. However, with more than 5% divergence from both Rifta and Ridgeia endosymbionts at the 16S rRNA gene level, it is possible that the differences in symbionts between and within seep and vent tubeworm have been underestimated in past studies and that different species occur at seep and vent habitats.
The metagenome-assembled genome results are consistent with the 16S rRNA gene and ITS analyses, indicating the MCR MAGs are distinct from all other sequenced tubeworm endosymbionts based on both phylogenetic analysis of concatenated core genes as well as protein clusters (Figs. 1 and 3). Within the MCR tubeworms, we identified MCR MAG 1, shared by both Lamellibrachia individuals and one Escarpia individual, as well as MCR MAG 2, which was only found in the other Escarpia individual. The two MCR MAGs showed an ANI of 86.4%, and MCR MAG2 had both a different 16S rRNA gene haplotype (haplotype 2), as well as an ITS region that contained a 60 bp insertion, as detected via cloning and sequencing, confirming the presence of multiple MCR symbionts. The whole genome analysis showed 1334 protein clusters shared across the seven genomes while 1263 were unique to the MCR MAGs, including whole pathways (Table 3). Despite nucleotide-level differences at the 16S rRNA gene, ITS, and whole genome level, there was little difference in functional capacity between the two genomes. While 1180 and 949 PC were found as unique to MCR MAG 1 and MCR MAG 2, respectively, we did not identify any specific pathway in one or the other. This implies that similar selective constraints act on both endosymbiont populations, in agreement with previous studies that focused on endosymbionts from different host species occurring in the same geographic area. For instance, the gene content and sequences of Riftia and Tevnia's endosymbionts from the East Pacific Rise were highly similar to each other, despite the fact that the two species thrive in distinct vent geochemical conditions [5]. The authors suggest that host species are able to attenuate differences in the environmental conditions experienced by each individual, thus providing their endosymbionts with similar microenvironments [5].
Key genes previously described in vent tubeworm metagenome-assembled genomes, including genes for the CBB and the rTCA cycle, as well as sulfur, nitrogen, and hydrogen oxidation, were identified from the MCR MAGs, underlying some core and shared functions between all tubeworm symbionts, independent of their geographic location [5, 8, 14]. These results are in agreement with carbon and sulfur isotopic data from Von Damm, which indicate sulfide-oxidizing chemoautotrophic endosymbionts for the tubeworms [21]. Bennett and colleagues [21] suggested that despite high level of hydrogen sulfide in the venting fluids at Von Damm, the tubeworm endosymbionts rely on sulfide from microbial sulfate reduction, similar to seep tubeworm species.
Given the high concentrations of hydrogen at Von Damm (19 mM), it is thus available to the symbionts as an alternate energy source. We found genomic evidence for hydrogen oxidation using the Hox gene pathway, which has not previously been identified in tubeworm endosymbionts nor in any other hydrothermal vent symbioses, to our knowledge. The full set of Hox genes encoding the bidirectional hydrogenases "NAD-reducing hydrogenase" was identified in all MCR tubeworm endosymbiont MAGs. First described in the hydrogen-oxidizing chemosynthetic Betaproteobacteria Cupriavidus necator (Ralstonia eutropha), the [NiFe]-hydrogenase of group 3d (as defined in the phylogenetic classification of Vignais and colleagues [46]), the Hox genes have now been found in several Archaea and Bacteria. A BLAST analysis showed the Hox genes were closely related to those from free-living Gammaproteobacteria, suggesting these could have been acquired from close relatives, although we do not have evidence for horizontal gene transfer (HGT). Given the endosymbiont MAGs also possess the commonly found Group 2a [NiFe]-hydrogenase (i.e., uptake hydrogenase, hupL) which occurs in other chemosynthetic symbioses including Riftia [47], it is not clear how these pathways are being utilized, concomitantly or separately depending on the conditions, requiring further investigation.
Further, based on the genomic evidence, the MCR tubeworm symbionts have the capacity to utilize organic compounds. The tubeworm endosymbionts may oxidize formate to carbon dioxide, catalyzed by NAD+-dependent formate dehydrogenase (fdhA), which has not previously been reported in tubeworm endosymbionts. Formate measurements in mixed fluids at Von Damm indicate concentrations up to 669 μmol kg−1, which are similar to those measured at the ultramafic hosted Lost City site (up to 158 μmol kg−1; [48]). The presence of this gene in the tubeworm endosymbionts may be due to the adaptation of the organisms to a formate-rich system. In addition, NAD+-dependent formate dehydrogenases are also important in methylotrophic microorganisms [49], which can use reduced one-carbon compounds, such as methanol or methane, as both an electron donor and a carbon source, with oxygen as the final electron acceptor. Bennett and colleagues [21] inferred from stable carbon isotopes that some seep-associated fauna at Von Damm rely on thermogenic hydrocarbons from the venting fluids for their carbon source; thus, the potential ability for tubeworm endosymbionts to oxidize organic substrates such as formate, or single carbon compounds indicates they may be able to switch from an autotrophic to a heterotrophic metabolism, possibly while free-living. Such metabolic versatility was already suggested in the Riftia tubeworm based on the capacity to transport and oxidize organic compounds [8], and the present study adds new evidence that tubeworms endosymbionts can adapt to very different sources of carbon and energy. The presence of peptide, sugar and lipid transporters, detected across all seep and vent metagenomes, and in particularly, in relatively high abundances in the MCR MAGs, further illustrate this metabolic versatility. In light of these and previous studies, and given the venting fluids at Von Damm are rich in carbon compounds such as formate and methane, we hypothesize that the tubeworm endosymbionts of the Mid-Cayman Rise tubeworms are chemoautoheterotrophic bacteria, rather than purely chemosynthetic bacteria. Gene expression studies would be required to infer if heterotrophy is more important or restricted to free-living symbionts.
We also identified genes within the MCR MAGs that provide insight into host-symbiont interactions. For example, we found a gene that may be involved in extracellular biofilm matrix formation through the biosynthesis of exopolysaccharides (pss). In addition, secretion systems detected in all tubeworm endosymbiont genomes such as the hlyd family secretion protein (hlyD), or the secretion systems type i, ii are used by bacteria to infect their host cells via a process called cell adhesion [50]. Although some molecular mechanisms for host-symbiont interactions have been described, they share striking similarities with pathogenic mechanisms. In a previous endosymbiont tubeworm metagenomic study, Gardebrecht and colleagues [5] showed the presence of genes involved in infection, biofilm formation, tissue lysis, and virulence related to those found in the pathogens Burkholderia pseudomallei, Staphylococcus aureus, and E. coli. Likewise, Sayavedra and colleagues [51] showed that mussel symbionts express toxin-related genes to interact with their hosts, highlighting mechanisms common to both pathogenic infections and beneficial host–symbiont interactions. In all the tubeworm endosymbiont genomes, we identified several ABC transporters annotated as toxin or multidrug exporters that represent pathogen-type defense mechanisms for the symbiont to protect itself from host defenses after infection, as well as many multidrug efflux pumps that can export toxin compounds present in the hydrothermal environment or from the cell. We also found autolysins genes in all of the endosymbiont genomes that are important in surface adhesion in Lactococcus lactis and in the pathogenic properties of Streptococcus pneumonia [52]. The presence of antimicrobial peptides (AMP) genes in all genomes suggest the symbionts protect the host or themselves against pathogens, parasites, parasitoids, or predators, as described in other animals [53]. A gene coding for the antioxidant enzyme catalase was found exclusively in the MCR endosymbiont MAGs, suggesting the ability of symbionts to break down hydrogen peroxide (H2O2) to water and oxygen. This gene has not been identified in tubeworm endosymbiont genomes previously, and its presence in the two MAGs suggests the MCR symbionts have unique enzymatic defenses against oxygen radical damage [54].
Taken together, our data show high levels of metabolic potential and versatility in the genomes of tubeworm endosymbionts at the MCR. The potential capacity of Lamellibrachia and Escarpia symbionts to use an extensive range of energy sources including sulfide and hydrogen to fuel chemosynthesis and organic matter (e.g., hydrocarbons) for heterotrophic metabolism may enable the host to exploit the wide range of environmental conditions in the ultramafic, sulfide, hydrogen, and methane rich venting fluids at Von Damm. This high metabolic diversity is consistent with the relatively large size of the genome bins reconstructed herein (more than 4 Mbp each). The vestimentiferan endosymbiont genomes obtained from "strict" (i.e., bare-rock in opposition to seep) vent systems habitats have slightly smaller sizes (i.e., Ridgeia 1 symbiont 3.44 Mbp; Ridgeia 2 symbiont 3.42 Mbp; Tevnia symbiont 3.64 Mp; Riftia 1 symbiont 3.48 Mbp; Riftia 2 symbiont 3.71 Mbp; "Candidatus Endoriftia persephone" 3.20 Mbp; see [6]). The fact that we did not obtain a single contig for each of the metagenome-assembled genomes reconstructed for this study could be due to the presence of repeated sequences across the genomes, which can end up in assembly break. Future studies using long read sequencing strategies such as MinION from Nanopore could help closing these genomes. The observed high metabolic diversity raises the question of whether a single strain or several partners are responsible for the observed diversity. Our results do not eliminate strain-level variation in the symbiont communities used to create the metagenome-assembled genomes. Genomic heterogeneity was shown in vent mussel symbiont populations that either possess or lack a key gene cluster, suggesting specialized rather than generalists symbionts [55]. The low SNV density in each of the MAGs, however, suggests a relatively low number of strains in each symbiotic bin, and therefore a low symbiont heterogeneity. Although we could not estimate the number of strains within each MAG, these genome bins (or genome populations) are relatively homogenous populations. Further, the low allele frequency (suggesting even abundance of the variants) in bins with high coverage (up to 245X) suggests abundant populations that are almost clonal. These data make the presence of metabolic specialists unlikely and suggest that individual symbionts from the MCR are able to accomplish a wide array of functions.
Together, the marked gene content and sequence dissimilarity (at the rRNA gene and whole genome level, with less than 75% ANI values) between hydrothermal and the seep endosymbionts studied herein suggest endosymbionts from the MCR belong to a novel tubeworm endosymbiont genus. We introduce the names Candidatus Vondammii proteani (i.e., named after the feature of sea-god Proteus, a figure of "flexibility, versatility and adaptability") and Candidatus Vondammii crypti to distinguish MAG1 and MAG2, respectively.
Conclusions
The genomic analysis coupled with phylogenetic and microscopic characterization of Mid-Cayman Rise Escarpia and Lamellibrachia endosymbionts sheds new light on tubeworm symbionts, extending both the potential habitats and metabolic flexibility of deep-sea hydrothermal vent and seep symbioses.
Abbreviations
ANI:

Average Nucleotide Identity
ITS:

Internal transcribed spacer
MAG:

Metagenome-assembled genome
MCR:

Mid-Cayman Rise
Declarations
Acknowledgements
We would like to thank the captains and crew of R/V Atlantis and ROV Jason as well as Sarah Bennett, Max Coleman, Chris German, Verity Nye, Sophie Plouviez, Paul Tyler, and Cindy Van Dover for outstanding sample collection support at sea. We thank Cindy Van Dover, Bernie Ball, and Sophie Plouviez for providing samples and metadata associated with each tubeworm individual, and Katherine Hammar and Louis Kerr for assistance with electron microscopy at MBL. A. Murat Eren, Caroline Fortunato, Loïs Maignien, Emily Reddington, and Sébastien Ravel provided important feedback during data generation and analysis.
Funding
This work was supported by a NASA Astrobiology Science and Technology for Exploring Planets (ASTEP) grant NNX-32709AB75G to JAH, a grant from the Deep Carbon Observatory's Deep Life Initiative to JAH, the NSF Science and Technology Center for Dark Energy Biosphere Investigations (C-DEBI contribution 412) and a mobility research grant from GDR3692 'Génomique environnementale' to JR. Ship and vehicle time was supported by NSF-OCE grant OCE-1061863 to colleagues Chris German and Jeff Seewald.
Availability of data and materials
All data generated or analyzed during this study are included in this published article (and its supplementary information files).
Authors' contributions
JR performed laboratory assays, analyzed the data, and wrote the manuscript. SRS performed laboratory assays. RA analyzed the data. CC analyzed the data and wrote the manuscript. JAH conceived the study, contributed resources, analyzed the data, and wrote the manuscript. All authors edited the manuscript and approved the final draft.
Ethics approval and consent to participate
Not applicable
Consent for publication
Not applicable
Competing interests
The authors declare that they have no competing interests.
Publisher's Note
Springer Nature remains neutral with regard to jurisdictional claims in published maps and institutional affiliations.
Open AccessThis article is distributed under the terms of the Creative Commons Attribution 4.0 International License (http://creativecommons.org/licenses/by/4.0/), which permits unrestricted use, distribution, and reproduction in any medium, provided you give appropriate credit to the original author(s) and the source, provide a link to the Creative Commons license, and indicate if changes were made. The Creative Commons Public Domain Dedication waiver (http://creativecommons.org/publicdomain/zero/1.0/) applies to the data made available in this article, unless otherwise stated.
Authors' Affiliations
(1)
ASTRE, INRA, CIRAD, University of Montpellier, Montpellier, France
(2)
Josephine Bay Paul Center, Marine Biological Laboratory, Woods Hole, USA
(3)
Department of Biology, Carleton College, Northfield, USA
(4)
Department of Organismic and Evolutionary Biology, Harvard University, Cambridge, USA
(5)
Present Address: Marine Chemistry and Geochemistry, Woods Hole Oceanographic Institution, Woods Hole, USA