Microbial interactions within the plant holobiont
Received: 20 September 2017
Accepted: 13 March 2018
Published: 27 March 2018
Abstract
Since the colonization of land by ancestral plant lineages 450 million years ago, plants and their associated microbes have been interacting with each other, forming an assemblage of species that is often referred to as a "holobiont." Selective pressure acting on holobiont components has likely shaped plant-associated microbial communities and selected for host-adapted microorganisms that impact plant fitness. However, the high microbial densities detected on plant tissues, together with the fast generation time of microbes and their more ancient origin compared to their host, suggest that microbe-microbe interactions are also important selective forces sculpting complex microbial assemblages in the phyllosphere, rhizosphere, and plant endosphere compartments. Reductionist approaches conducted under laboratory conditions have been critical to decipher the strategies used by specific microbes to cooperate and compete within or outside plant tissues. Nonetheless, our understanding of these microbial interactions in shaping more complex plant-associated microbial communities, along with their relevance for host health in a more natural context, remains sparse. Using examples obtained from reductionist and community-level approaches, we discuss the fundamental role of microbe-microbe interactions (prokaryotes and micro-eukaryotes) for microbial community structure and plant health. We provide a conceptual framework illustrating that interactions among microbiota members are critical for the establishment and the maintenance of host-microbial homeostasis.
Keywords
Microbe-microbe interactionsHolobiontPlant microbiotaCompetitionCooperation
Background
In nature, healthy and asymptomatic plants cohabit with diverse microbes such as archaea, bacteria, fungi, and protists (collectively termed the plant microbiota, see an example for
Arabidopsis thaliana
root microbiota in Fig.
1
) that form complex microbial consortia and impact plant growth and productivity [
1
–
4
]. Although plants have evolved their own adaptations to alleviate most biotic and abiotic stresses in nature, they also rely on their microbial partners to survive and defend themselves against microbial invaders [
5
]. Several studies have reported a wide range of beneficial effects of microbiota members on plant health including disease suppression [
6
,
7
], priming of the plant immune system [
8
], induction of systemic resistance [
9
], increased nutrient acquisition [
10
], increased tolerance to abiotic stresses [
11
], adaptation to environmental variations [
12
], or promotion of the establishment of mycorrhizal associations [
13
]. Interactions between plants and their associated microbial communities are not unidirectional. The host plant also provides novel metabolic capabilities to its microbial associates, leading to the adaptation of niche-specialized inhabitants that can either have positive (mutualistic), neutral (commensalistic), or deleterious (pathogenic) impact on plant fitness [
14
].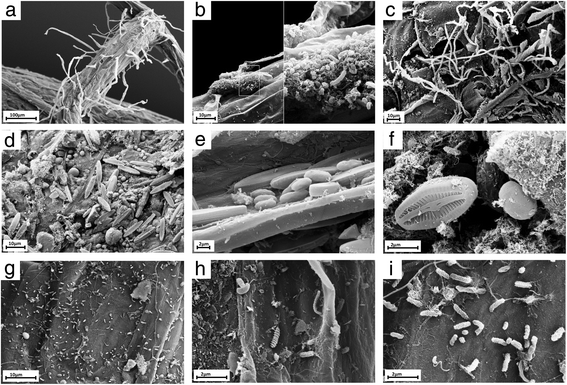 A current concept considers the multicellular host and its associated microbiota as a functional entity called the "holobiont," in which evolutionary selection likely occurs between the host and the microbes but also among microbes [15]. Although extensive evidence supports the co-evolution of binary interactions between plants and pathogenic or symbiotic microbes, it remains unclear whether genomic signatures exist for the microbial community-related fitness phenotypes in the host genome and its associated microbiome. It is likely that not all microorganisms within the plant holobiont affect each other's evolution trajectories and that selective pressure does not only impact holobiont fitness in a positive way [16–18]. Although the evolution of plant-microorganism partnership and particularly of mutualism has been discussed in respect of the holobiont concept [18], the evolution of microbe-microbe interaction mechanisms that favor co-existence of highly diverse microbial consortia on or inside plant habitats remains poorly described. A more comprehensive understanding of the evolution of microbe-microbe-host interactions remains challenging due to the complex ecological interactions taking place in nature and the different ways plant-associated microbes are inherited (i.e., vertical transmission via seeds [19–21] vs. horizontal acquisition from the environment [22, 23].
The very ancient origin of microbes on Earth, tracing back to the beginning of life more than 3.5 billion years ago, indicates that microbe-microbe interactions have continuously evolved and diversified over time, long before plants started to colonize land 450 million years ago (Fig.
2
). Therefore, it is likely that both intra- and inter-kingdom intermicrobial interactions represent strong drivers of the establishment of plant-associated microbial consortia at the soil-root interface. Nonetheless, it remains unclear to what extent these interactions in the rhizosphere/phyllosphere and in endophytic plant compartments (i.e., within the host) shape microbial assemblages in nature and whether microbial adaptation to plant habitats drive habitat-specific microbe-microbe interaction strategies that impact plant fitness. Furthermore, the contribution of competitive and cooperative microbe-microbe interactions to the overall community structure remains difficult to evaluate in nature due to the strong environmental noise. To mitigate these technical hurdles, reductionist approaches have been primarily used to identify several of the diverse and sophisticated molecular mechanisms used by microbes to cooperate and compete on plant tissues and persist as complex microbial consortia [
24
–
27
].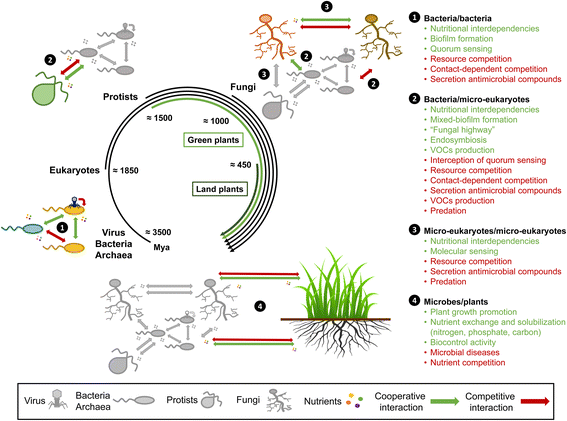 We focus this review on three microbial groups (bacteria, fungi and protists) that are abundantly found on plant tissues and briefly describe the diverse mechanisms used by these microbes to cooperate and compete in planta. We further discuss how these microbial interactions represent important organizational rules structuring the plant microbiota as well as their impact on plant growth and health.
Composition of plant-associated microbial communities and structuring factors
The bacterial and archaeal microbiota of plants
It is now widely accepted that bacterial community establishment on plants is not random but rather controlled by specific assembly rules [4, 22, 23]. The factors impacting the structure of bacterial communities in plants include soil type [28, 29], plant compartment [30–34], host genotype/species [29, 35–42], plant immune system [24, 43], plant trait variation/developmental stage [43–47], and residence time/season [48–53]. Despite the large number of bacterial phyla described in nature and the multiple factors that affect these communities, the bacterial microbiota of plants is dominated by three major phyla (Proteobacteria, Actinobacteria, and Bacteroidetes) in both above- and belowground plant tissues [22, 54]. Extensive overlap between root- and leaf-associated community members has been described at OTU (operational taxonomic unit) level resolution in grapevine, agave, wild mustard, and A. thaliana [30, 31, 34, 55, 56], and the reciprocal relocation between root- and leaf-associated bacterial communities has been further validated using microbiota reconstitution experiments with germ-free A. thaliana [31]. Despite the striking structural similarities observed between A. thaliana leaf- and root-associated bacterial communities, large-scale genome sequencing and re-colonization of germ-free plants revealed that host-associated microbiota members are specialized and adapted to their respective cognate plant organs [31]. Although Archaea represent abundant members of the plant microbiota (i.e., 35.8%) [57], they have been less studied than their bacterial counterparts, most likely because no pathogenic isolates have been described to date. Plant endophytic archaeal taxa primarily belong to the phyla Thaumarchaeota, Crenarchaeota, and Euryarchaeota, but their functional relevance for their plant host remains to be clarified [57].
The fungal microbiota of plants
Even though less attention has been given to the fungal microbiota of plants, culture-independent community profiling revealed a staggering diversity of fungi colonizing both above- and belowground plant tissues, mainly belonging to two major phyla: Ascomycota and Basidiomycota [58–60]. In roots, although arbuscular- (Glomeromycota phylum) and ectomycorrhizal fungi have been mostly studied, recent community profiling data indicate that other endophytic fungi also represent an important fraction of the fungal root microbiota [59, 61]. In non-mycorrhizal plant species such as A. thaliana, Arabis alpina, or Microthlaspi, it has been proposed that they might compensate for the lack of mycorrhizal partners [62–64]. Similar to bacteria, the structure of plant-associated fungal communities is not random [65–67] and varies depending on soil type, plant compartment, plant species, or seasons [55, 68–72]. Compared to the bacterial microbiota, fungal communities established in soil and on plant roots seem to be more subjected to stochastic variations [73–75] and respond differently to environmental factors [76–78]. Consequently, mainly dispersal limitation and climate explain the global biogeographic distribution of fungi and have been suggested to constrain fungal dispersal, favoring high endemism in fungal populations [79–81]. Consistent with that, simultaneous investigation of both fungal and bacterial communities associated with plants suggested a greater importance of biogeography for structuring fungal communities compared to bacterial communities [55, 61, 71, 82]. Whether this pattern is accentuated by the different taxonomic resolutions resulting from 16S rRNA and ITS marker loci remains to be clarified [83].
Plant-associated protists: the neglected fraction of the plant microbiota
Most of the protists that are known to interact with plants belong to the Stramenopiles-Alveolata-Rhizaria supergroup (SAR) [84], and particularly those belonging to the Oomycota (Stramenopiles) and Cercozoa (Rhizaria) lineages. Within Oomycota, few members belonging to the genera Pythium, Phytophthora, Peronospora (and other downy mildew genera), or Albugo are often found living in association with plant roots or leaves [85–88]. Notably, the vast majority of oomycete species described so far are highly destructive plant pathogens that have a major impact on plant productivity worldwide [89]. Nonetheless, root colonization by closely related oomycetes (Pythium spp.) can have contrasted effect on plant growth, and specific strains (i.e., Pythium oligandrum) were reported to confer fitness benefit to the host [90–92], suggesting that some members can establish non-pathogenic interactions with plants. Although profiling of oomycetal communities in healthy plant tissues remains sparse, recent reports indicate a very low diversity [88, 93], with members of the Pythiaceae family being the most represented on plant tissues [93]. Within Cercozoa, one of the dominant protistan groups in terrestrial ecosystems, community profiling data revealed an unexpectedly high diversity in plant roots and leaves [93, 94], as well as a strong plant filtering effect on community structure, pointing to specific niche adaptation to plant habitats. Taken together, these data support the importance of considering protists, and particularly Oomycota and Cercozoa members for holobiont fitness.
Cooperative interactions among plant microbiota members
Although the structure of microbial communities formed in the leaves and roots of several plant species has been elucidated, there is still a lack of knowledge regarding how cooperation between plant-associated microbiota members influences microbial community establishment and plant health. In the following paragraphs, we summarize the cooperative mechanisms that are employed by microbiota members to persist within the plant holobiont (Fig. 2).
Competitive interactions among plant microbiota members
Plant-associated microbiota members also engage in direct or indirect competition with closely or distantly related-microbiota members. These competitive mechanisms are diverse and likely have cascading consequences on microbial community structure and stability, as well as on host-microbiota homeostasis. In the following paragraph, we describe the competitive mechanisms employed by plant microbiota members for successful niche colonization (Fig. 2).
Importance of intermicrobial interactions for structuring plant-associated microbial communities
The various mechanisms employed by microbes to cooperate and compete on plant tissues suggest that microbe-microbe interactions play fundamental roles in shaping and structuring microbial networks in nature. Therefore, the combination of host-microbe and microbe-microbe interactions is likely critical for the establishment of complex and diverse multi-kingdom plant-associated microbiota (Fig.
3
) [
186
,
187
]. However, the mechanistic understanding of the intermicrobial interactions in a community context as well as their functional impacts on plant-associated microbial communities remains sparse. In this section, we discuss recent data obtained from microbial community profiling studies and associated ecological networks that underline the importance of microbe-microbe interactions for shaping microbial communities on plant tissues.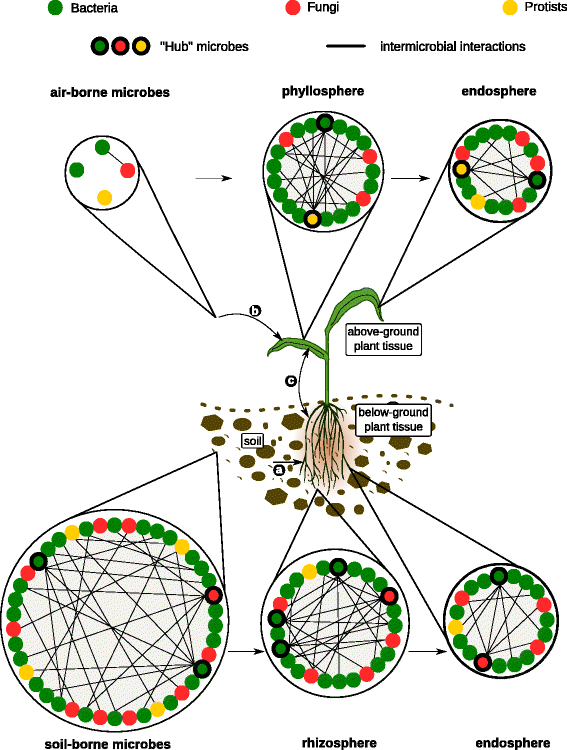 Cascading consequences of intermicrobial interactions on plant growth and health
Although competitive and cooperative interactions significantly impact plant-associated microbial assemblages, these microbial interactions might also alter plant growth and fitness in beneficial or deleterious ways. Although some correlations were observed between microbial community composition and plant host phylogeny [37, 39, 214], it is likely that a core plant microbiota has evolved with terrestrial plants (lycopods, ferns, gymnosperms, and angiosperms) over 450 million years [214] (Fig. 2). Therefore, it is plausible that these co-occurring core microbiota members have evolved, in parallel, niche-specific inter-microbial interactions strategies that impact plant growth and health.
Intermicrobial interactions and plant growth promotion
Bacterial-mycorrhizal-plant relationships have been intensively studied since this microbial interplay can provide a direct benefit for the host plant [215]. The interaction between mycorrhizal fungi and specific rhizobacteria promotes the establishment and functioning of mycorrhizal symbioses with the plant host, including both endo- and ectomycorrhizal interactions [13, 216–220]. These so-called "helper" bacteria are able to act at several levels: (1) they increase the receptivity of the root to mycorrhizal fungi, (2) enhance soil conduciveness to the fungus, (3) promote germination of fungal spores, and (4) enhance mycelium survival [217]. Furthermore, this relationship appears to be specific, since some bacteria isolated from specific mycorrhizal fungi have antagonistic activities towards other phylogenetically unrelated fungi [217]. Beyond mycorrhiza helper bacteria, some bacterial endosymbionts of root-associated fungi also directly affect the plant host, as demonstrated for Rhizobium radiobacter F4. This Serendipita indica's (formerly Piriformospora indica) endosymbiont is able to grow in the absence of its fungal host and can promote plant growth and resistance to plant leaf pathogens independently from S. indica, suggesting that S. indica-mediated plant growth promotion is partly mediated by its bacterial endosymbiont [221, 222] or by other bacterial members influencing fungal growth [223].
In nature, most land plants are co-colonized by fungal and bacterial symbionts, as well as a staggering diversity of endophytic and pathogenic microbes [59, 61]. However, it remains unclear how the competing demand of multiple partners is balanced in plant roots to maintain a beneficial output. A focus of interest is the cooperation between mycorrhizal fungi and nitrogen-fixing bacteria. These important members of the root microbiota are widespread and co-occur in the roots of many plant species [216]. Interestingly, it has been recently shown that these microbes can complement each other to maximize nutrient acquisition in the host and act synergistically to promote plant diversity and productivity [10]. Although the direct role of microbe-microbe interaction in this process is likely minor, mixed microbial consortia could, nonetheless, indirectly stimulate ecosystem functioning and plant productivity through different resource use strategies.
Intermicrobial interactions and disease suppression
Soil bacterial communities from different taxonomic groups have an important biocontrol potential in the so-called "disease-suppressive" soils. In these soils, plants are less affected by pathogenic microbes due to the effect of their surrounding microbiota. Specifically, it has been proposed that fungal oxalic acid produced by the fungal root pathogen Rhizoctonia solani or compounds released from plant roots under attack promotes the growth of particular bacterial families (Oxalobacteraceae and Burkholderiaceae), leading to a bacterial community shift and the activation of bacterial stress and antagonistic responses that restrict the growth of the fungal pathogen [6, 224]. Furthermore, it has been shown that Streptomyces strains isolated from disease-suppressive soils can produce different VOCs with antifungal activity [225]. Other Streptomyces species have also been isolated from disease-suppressive soils from a strawberry field [226]. These bacteria have been found to produce an antifungal thiopeptide targeting fungal cell wall biosynthesis in Fusarium oxysporum, suggesting that different bacterial species use different competitive mechanisms [226].
Similarly, Santhanam and colleagues have elegantly demonstrated how root-associated bacteria provide an effective rescue to Nicotiana attenuata from the sudden-wilt disease. Seed inoculation with a core consortium of five bacterial isolates naturally adapted to the environment provides an efficient plant protection under field conditions, underlining the importance of using locally adapted microbiota members to control plant disease [227]. In the phyllosphere, it has been shown that the leaf surface microbiota, together with endogenous leaf cuticle mechanisms, leads to A. thaliana resistance against the broad host range necrotrophic fungal pathogen Botrytis cinerea [7]. Although it is not clear whether these bacterial communities were already stable or restructured after pathogen attack, it is likely that the plant actively recruits disease-suppressive bacteria during seed production or germination [19, 228]. Although many examples illustrate the biocontrol activity of plant-associated microbiota members, the molecular mechanisms leading to pathogen growth suppression on plant tissues remain sparse. Recently, it has been shown that the millet bacterial endophyte Enterobacter sp. can promote both growth and bending of millet root hairs, resulting in a multilayer root-hair endophyte stack that efficiently prevents entry by the fungal pathogen Fusarium. Tn5-mutagenesis further demonstrated that bacterial biocontrol activity requires c-di-GMP-dependent signaling, diverse fungicides, and resistance to a Fusarium-derived antibiotic [111].
Although it is known that the plant-associated microbiota can prevent disease, it remains difficult to engineer functionally reliable synthetic microbial consortia that promote plant growth and suppress disease. Reductionist approaches with synthetic microbial consortia suggest that pathogen suppression increases when the diversity of the bacterial consortium increases. It has been shown that complex Pseudomonas species consortia better protect tomato plants against the root pathogen Ralstonia solanacearum than low-complexity Pseudomonas spp. consortia, due to the combined action of antagonistic activities and resource competition [229]. Similarly, Wei and collaborators showed that disease incidence is reduced when the trophic network favor resource competition between non-pathogenic R. solanacearum and a pathogenic strain, due to overlap in resources acquisition [152]. These highlighted examples provide evidence that microbial diversity, resource competition, and intermicrobial antagonism are important factors to consider for engineering functionally relevant microbial consortia that efficiently suppress plant diseases.
Intermicrobial interactions and disease facilitation
Intermicrobial interactions do not necessarily impact plant fitness in a positive way but can also be deleterious for the plant by enhancing disease. For instance, the bacterial plant pathogen Clostridium puniceum secretes clostrubins (antimicrobial polyketide) to compete against other microbial pathogens and survive in aerobic environments [230]. It has been also shown that toxin production by the bacterial endosymbiont of the plant-pathogenic fungus Rhizopus is required for successful fungal colonization of rice plants, indicating that fungal-bacterial symbioses can also promote disease [140]. Recently, high-throughput fungal profiling methods, combined with manipulative experiments, have shed new light on the ecological importance of fungal endophytes for rust disease modification in wild trees. Authors specifically showed that certain fungal endophytes in the poplar phyllosphere could reduce rust disease symptoms, whereas others promote susceptibility [206]. Taken together, these studies clearly show that intermicrobial interactions are complex and can also mediate disease facilitation.
Conclusions
Plants live in intimate association with complex and diverse microbial communities. Next-generation sequencing has already enabled us to explore different microbial groups through the targeting of specific microbial loci or using environmental metagenomes. Nonetheless, a more holistic understanding is still needed to better understand the intermicrobial interactions within the microbiota of plants and to better define the functional relevance of the microbial networks for holobiont fitness [18, 231]. Prokaryotic and eukaryotic microbes have evolved a myriad of cooperative and competitive interaction mechanisms that shape and likely stabilize microbial assemblages on plant tissues. However, most of the data are derived from one-to-one interaction studies, and only few incorporate complex microbial communities in controlled laboratory conditions to reconstitute the plant microbiota and to understand the role of intermicrobial interactions. Such experiments will shed new light on the fundamental principles that govern the assembly of complex microbial communities and the maintenance of host-microbial homeostesis. Combining both empirical approaches [168–170, 232] and computationally inferred association networks [233–236] will be crucial to understand the ecology of microbial interactions during plant-microbiota establishment, to better predict assembly and stability of natural or synthetic microbial communities, and to better define the dynamics of microbial community establishment in time and in space. Finally, it is important to consider microbe-microbe interactions to accept or reject the hologenome theory, which postulates that selection can operate on horizontally acquired plant microbiota members. According to this concept, it is likely that microbes that tightly associate with plants also evolve community level microbe-microbe interaction strategies that allow them to persist within the plant holobiont. It is now crucial to determine whether the microbiota of plant shows high heritability, and to dissect whether community-level selection occurs between the host and the microbial community and between members of the microbial community.
Abbreviations
AHLs:

N-acyl-l-homoserine lactone
CF:

Cytophaga
cm:

Centimeter
e.g:

Exampli gratia
etc:

Et cetera
OTUs:

Operational taxonomic units
sp.:

Species
VOCs:

Volatile organic compounds
Declarations
Acknowledgements
We thank Paul Schulze-Lefert, Ryohei Thomas Nakano, and William Chanz Robbins for their critical comments on the manuscript.
Funding
Stéphane Hacquard is supported by the Max Planck Society and the European Research Council Starting Grant (MICRORULES).
Availability of data and materials
Not applicable.
Authors' contributions
MAH, PD, and SH defined the manuscript outline and wrote the manuscript. All authors read and approved the final manuscript.
Authors' information
MAH, Environmental Genomics, Botanical Institute Christian-Alberchts University of Kiel, Am Botanischen Garten 1-9, 24118 Kiel, Germany, and Max Planck Institute for Evolutionary Biology, August-Thienemann-Strasse 2, 24306 Plön, Germany, PD; SH, Department of Plant Microbe Interactions, Max Planck Institute for Plant Breeding Research, Carl-von-Linné-Weg 10, 50829 Cologne, Germany.
Ethics approval and consent to participate
Not applicable.
Consent for publication
Not applicable.
Competing interests
The authors declare that they have no competing interests.
Publisher's Note
Springer Nature remains neutral with regard to jurisdictional claims in published maps and institutional affiliations.
Open AccessThis article is distributed under the terms of the Creative Commons Attribution 4.0 International License (http://creativecommons.org/licenses/by/4.0/), which permits unrestricted use, distribution, and reproduction in any medium, provided you give appropriate credit to the original author(s) and the source, provide a link to the Creative Commons license, and indicate if changes were made. The Creative Commons Public Domain Dedication waiver (http://creativecommons.org/publicdomain/zero/1.0/) applies to the data made available in this article, unless otherwise stated.
Authors' Affiliations
(1)
Department of Plant Microbe Interactions, Max Planck Institute for Plant Breeding Research, Cologne, Germany
(2)
Environmental Genomics, Christian-Albrechts University of Kiel, Kiel, Germany
(3)
Max Planck Institute for Evolutionary Biology, Plön, Germany