Microbial shifts in the aging mouse gut
Received: 20 June 2014
Accepted: 13 November 2014
Published: 5 December 2014
Abstract
Background
The changes that occur in the microbiome of aging individuals are unclear, especially in light of the imperfect correlation of frailty with age. Studies in older human subjects have reported subtle effects, but these results may be confounded by other variables that often change with age such as diet and place of residence. To test these associations in a more controlled model system, we examined the relationship between age, frailty, and the gut microbiome of female C57BL/6 J mice.
Results
The frailty index, which is based on the evaluation of 31 clinical signs of deterioration in mice, showed a near-perfect correlation with age. We observed a statistically significant relationship between age and the taxonomic composition of the corresponding microbiome. Consistent with previous human studies, the Rikenellaceae family, which includes the Alistipes genus, was the most significantly overrepresented taxon within middle-aged and older mice.
The functional profile of the mouse gut microbiome also varied with host age and frailty. Bacterial-encoded functions that were underrepresented in older mice included cobalamin (B12) and biotin (B7) biosynthesis, and bacterial SOS genes associated with DNA repair. Conversely, creatine degradation, associated with muscle wasting, was overrepresented within the gut microbiomes of the older mice, as were bacterial-encoded β-glucuronidases, which can influence drug-induced epithelial cell toxicity. Older mice also showed an overabundance of monosaccharide utilization genes relative to di-, oligo-, and polysaccharide utilization genes, which may have a substantial impact on gut homeostasis.
Conclusion
We have identified taxonomic and functional patterns that correlate with age and frailty in the mouse microbiome. Differences in functions related to host nutrition and drug pharmacology vary in an age-dependent manner, suggesting that the availability and timing of essential functions may differ significantly with age and frailty. Future work with larger cohorts of mice will aim to separate the effects of age and frailty, and other factors.
Keywords
MicrobiomeAgingMiceB12AlistipesFrailty index
Background
The human microbiome influences and is influenced by several aspects of the host's health and development [1]. Perturbations to human-associated bacterial communities are associated with many disorders such as colon cancer, autoimmune diseases, inflammatory bowel disease, and Clostridium difficile infection [2]-[8]. The influence of the gut microbiota on human health is driven by interactions between microbes and the host: for example, different groups of bacteria can synthesize energy sources such as butyrate and other short-chain fatty acids [9],[10], stimulate the immune system [11],[12], and provide protection from pathogens through competitive exclusion and the production of protective compounds such as bacteriocins [13],[14].
The age of the host appears to be linked with the composition of the associated microbiome [15],[16]. Although many studies have focused on associations between the microbiome and early life stages [15],[17],[18], relatively few studies have looked into the effect of the microbiome on aging and frailty in later life [19]-[23]. It is known that the microbiome changes drastically between infant and adult stages of life, with a shift from dominance by Bifidobacterium to genera within Bacteroidetes and Clostridia [15],[19] that reflects a change from primarily lactate metabolism and plant polysaccharide breakdown to short-chain fatty acid (SCFA) production and vitamin (such as cobalamin/B12) and carbohydrate metabolism. Previous studies have observed changes to the bacterial communities between young/middle-aged adults and older subjects [15],[20]-[22]. Centenarians were found to have a decrease in Clostridia and an increase in Proteobacteria and Bacilli in their gut microbiomes [20]. Such shifts reduce the abundance of SCFA producers and increase the number of facultative anaerobes and opportunistic pathogens (primarily Proteobacteria) within the gut microbiome of the older population [23]. Such shifts would likely lead to increased inflammation, which along with aging-associated changes is a major contributor to the overall frailty of an individual [24]. Studies focusing on the frailty of the host as a factor in microbiome composition found that members of the Oscillibacter and Alistipes genera were in high abundance in the most frail individuals [22] whereas the abundance of Eubacteriaceae, Faecalibacterium, and Lactobacillus was reduced [21]. Although these shifts in constituent microbes are likely associated with changes in microbial metabolism and interactions with the host, the consequences of such shifts are not yet understood. Beyond these studies, little is known to date about the link between the microbiome, aging and frailty in terms of perturbations to the microbial communities. Since different microbial taxa often carry out different molecular functions and take on different ecological roles in the gut, we may expect to see commensurate changes in the metabolic potential of the microbes and the manner in which they interact with the host.
Given the potential for the gut microbiome to change as an individual ages, and its possible role in the health of older individuals, our aim is to investigate linkages between aging, frailty, and the microbiome. There are many probable confounding factors in human studies, including change in diet, medications, and housing status (e.g., home residence versus long-term care facilities), making it difficult to identify direct effects of aging and frailty. Although not free of confounding factors themselves, mouse studies allow for better-controlled observations and experiments and have been shown to serve as good models of the human microbiome [25],[26]. A frailty model has recently been demonstrated to provide similar information about aging mice [27] as traditional frailty assessments do for older human patients [28]. A previous study of the gut microbiome in older mice related dietary intervention to shifts in bacterial composition [29] but did not investigate changes in relation to age itself. Using metagenomic sequencing of fecal samples, we find shifts both in microbial composition and specific molecular functions that correlate with the age and frailty of the host. Our results corroborate previous findings of microbiome shifts in aging adults and identify changes in taxonomy and function with relevance to aging and frailty.
Results and discussion
Murine age groupings and frailty index scores
A total of 21 stool samples for metagenomic analysis were collected from ten different mice with varying ages and murine frailty index (FI) scores (Additional file
1
). Age correlated with frailty (Spearman correlation = 0.86,
p
 = 1.064 × 10
−5
), and fell into three natural groupings which we refer to as 'young' (age in days: mean 174 ± s.d. 15; FI: 0.024 ± 0.016; samples = 9; mice = 5), 'middle' (age in days: 589 ± 18; FI: 0.097 ± 0.030; samples = 6; mice = 2), and 'old' (age in days: 857 ± 16; FI: 0.302 ± 0.088, samples = 6; mice = 3) (Figure
1
, Additional file
2
). The strong correlation between FI and age reinforces that both are suitable measurements to compare with changes in the gut microbiome. Fares and Howlett showed that a 50% mortality rate occurs around 24 months in mice, which corresponds roughly to age 85 in humans [
30
]. Our study did not reveal a strong indication that either FI or age was a better predictor of microbiome shifts due to the sample size of the study and the lack of observed variation in FI with respect to age in this particular subset of mice.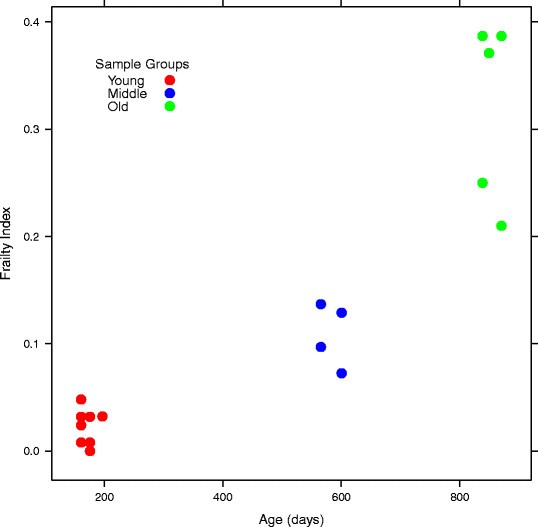 Taxonomic differences between young, middle, and old mouse groups
To determine if there are differences in the microbiomes of mice of different ages, we compared the taxonomic composition of the microbiome samples using several different methods. Initially, we extracted 16S rRNA ribosomal genes from the metagenomic sequences and assigned these to 97% operational taxonomic units (OTUs) from GreenGenes using the Quantitative Insights Into Microbial Ecology (QIIME) closed-reference OTU-picking protocol. Principal coordinate analysis of the samples showed significant separation by age groups using both weighted UniFrac (ANOSIM
p
value = 0.004) and unweighted UniFrac (ANOSIM
p
 = 0.001) (Figure
2
). Principal coordinate 1 (PC1) (percent variation explained: 15.2%) of the unweighted UniFrac separates all three sets of samples, while PC2 (10.8%) separates the old group from the other samples even further. In the weighted UniFrac plot, separation of the samples by age only appears after introducing PC2 (16.5%) and not with PC1 (54%), which appears to be driven by substantial changes in taxonomic relative abundance in two samples (Y7-Aug15 and 1E-May23). These two samples both have reduced levels of Bacteroidales relative to Clostridiales and vary greatly from all other samples including those taken from the same mouse within very close time spans (Y7-Aug15: 1 day and 1E-May23: 32 days). In spite of these differences, the clustering of samples by age group even for these two outliers by unweighted UniFrac suggests a strong relationship in qualitative terms. The clearer delineation of samples by age in the unweighted UniFrac analysis suggests that the presence or absence of particular OTUs is more important than the abundance of these OTUs in separating the samples by age. To further test if separation of samples was observed regardless of method, a PCA plot was created that used only the raw abundances of each OTU and did not use a beta diversity measure to relate the OTUs to each other. These results were consistent with our initial PCoA analysis as illustrated by the clear separation of the samples by age group when PC1 (40.0%) and PC2 (23.4%) were plotted (Additional file
3
).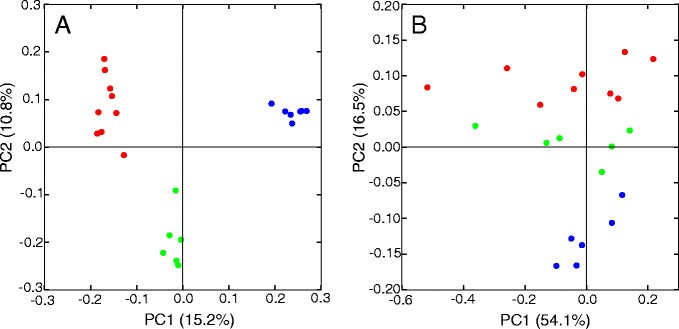 The second approach for determining taxonomic composition within the metagenomic samples used 40 conserved protein-coding genes that have previously been described [31] and were assigned using the PhyloSift package [32]. Metagenomic reads matching to each of the conserved protein-coding genes were then inserted into their corresponding reference phylogenetic gene tree using Pplacer [33] and then compared using Pplacer's edge principal component analysis (edge PCA) [34]. The edge PCA method transforms the placed reads such that each edge in the tree becomes a variable of interest, which is then used for PCA. This has the added advantage of relating each of the principal components directly to the phylogenetic edges that are contributing to that signal. Similar to the weighted UniFrac PCoA, the first principal component (87.4%) from the edge PCA did not provide any separation of the samples, and after visualizing the drivers of PC1 on the phylogenetic tree provided by Pplacer, it seems to be driven by a trade-off between Firmicutes/Clostridia and Bacteroidetes [35]. However, separation of samples by age did appear when using PC2 (6%) and PC3 (4%) (Additional file 4A). Separation between the old and middle samples occurred primarily by PC2 of the edge PCA plot and was driven by the middle group having more Rikenellaceae, Lactobacillaceae, Mycoplasmataceae, and Erysipelotrichaceae, and less Lachnospiraceae, Clostridiaceae, Ruminococcaceae, Prevotellaceae, and Porphyromonadaceae (Additional file 4B). PC3 primarily separated the young samples from the middle and old samples and was driven by the young having more Lactobacillaceae, Prevotellaceae, and Porphyromonadaceae and the middle and old groups having more Rikenellaceae, Lachnospiraceae, Ruminococcaceae, and Clostridiaceae (Additional file 4C). In all cases, the samples of young and old mice were more similar to each other than either was to the middle group. This observation agrees with studies in humans that also showed that middle-aged people had more distinct taxonomic [20] and functional [36] compositions then other adult age groups.
Some samples were taken from the same mouse over a period of time, raising the question of whether intra-mouse correlations artificially increased the apparent similarity within age groups. To address this question, we examined the average beta diversity between all samples taken from the same mouse in a given age group, versus all pairs of samples taken from different mice. We found no significant difference in means (Welch t test p < 0.05) between the two types of samples at all ages, for both weighted and unweighted UniFrac (Additional file 5). The average distances being compared never differed by more than 0.029 (middle mouse group; unweighted UniFrac), and in the young group, the samples from the same mice had greater beta diversity than those taken from different mice. This lack of difference suggests that there are substantial changes in the microbiome composition over short periods of time but that there is commonality in the microbiome as mice age under controlled laboratory conditions.
Taxonomic differences were compared across the different age groups to determine if particular taxa are associated with the gut microbiomes of aging and frail mice. The Rikenellaceae family, which contains the
Alistipes
genus and has previously been linked to microbiomes from elderly people [
22
], was the most significantly overrepresented family within the middle and old groups in comparison to young mice when using 16S data (Kruskal-Wallis
H
test, Benjamini-Hochberg FDR multiple test correction
p
 = 0.007) (Figure
3
; Additional files
6
and
7
). To ensure that this taxonomic link between frailer mice and people was not an artifact of using the 16S rRNA gene as a marker, an independent analysis using protein markers (PhyloSift) and phylogenetic placement (Pplacer) was conducted. The latter method has the advantage of identifying the phylogenetic context of sequenced reads but does not provide statistical significance testing. However, the results from this method did provide additional support that the
Alistipes
were more abundant within the old and middle mouse groups (Figure
4
). The PhyloSift approach indicated that the old mice have lower abundances of organisms from the Lachnospiraceae family, a group often associated with the production of beneficial SCFAs [
37
], even though the 16S-based method did not show a significant difference (
p
 = 0.7) between the age groups. This contrasting result suggests that the type of phylogenetic marker used for taxonomic assessment can give conflicting results for some taxon families. Lastly, the PhyloSift approach indicated that some members of the Bacteroidaceae family were abundant in the old and middle groups, while fewer were abundant in the young group, which did agree with the 16S results (old: 9.2% ± 7.9%; middle: 10.3% ± 1.3%; young: 3.9% ± 1.4%,
p
 = 0.06).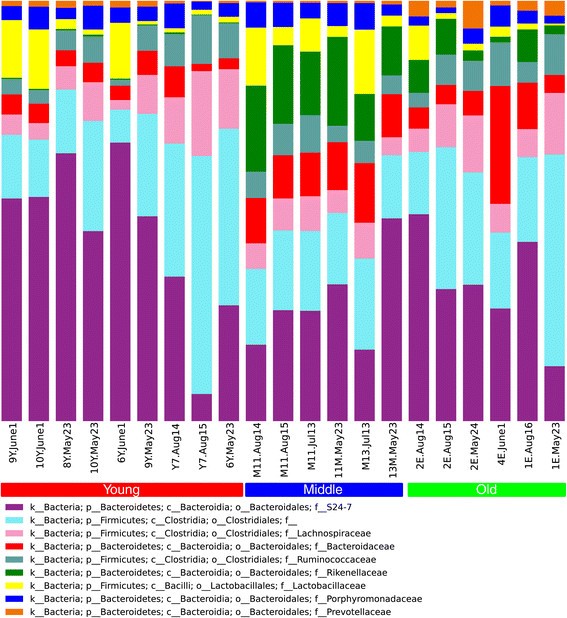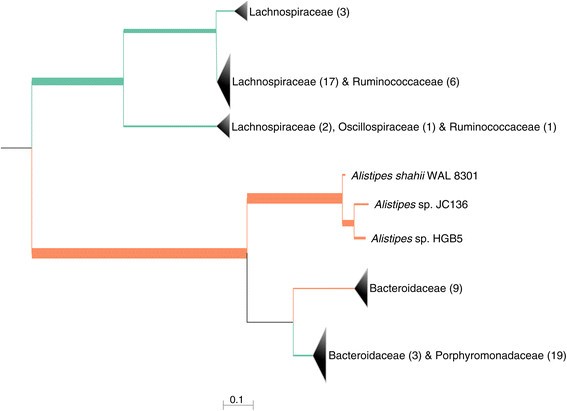 Previous research in humans showed a negative relationship between frailty and the abundance of Eubacteriaceae, Faecalibacterium, and Lactobacillus [21]. We found virtually no Eubacteriaceae (eight sequences total) within any of our samples and no difference in proportions of Faecalibacterium between the age groups (p = 0.828; Additional file 6). These differing results could be due to unique differences between aging in mice and in humans or due to confounding signals from diet or habitat change in the elderly study. Although a recent finding did identify in aging mice the same decrease in Lactobacillus as in the elderly [38], no significant decrease in Lactobacillus was observed (old: 2.4% ± 2.4%; middle: 7.0% ± 4.6%; young: 4.9% ± 5.3%, p = 0.44; Additional file 6). Zhang et al. also reported a large phylum shift for all their aged mice from Firmicutes to Bacteroidetes, but we did not observe any change in the Firmicutes/Bacteroidetes ratio among our different age groups [38]. Additionally, we noted that the genus Akkermansia was nearly absent from the old group (0.003% ± 0.004%), compared to the middle (0.39% ± 0.27%) and young mice (0.50% ± 0.8%), but the difference in means was again not significant at an alpha threshold of 0.05 (p = 0.058; Additional file 6). Akkermansia has been linked to healthy microbiomes in some studies [39],[40], although members of this genus may also exacerbate certain types of infection via mucin degradation [41].
Functional differences among microbiomes
Annotation of metagenomic sequences using MG-RAST led to the identification of 99 SEED level 3 categories that had significant mean abundance differences across the young, middle, and old categories using STAMP [42] (Kruskal-Wallis p < 0.05 with Benjamini-Hochberg FDR correction). Detailed results are shown in Additional file 8; here, we focus on functions of particular interest due to their possible roles in aging and frailty.
Conclusions
Although previous microbiome studies in humans have shown changes with age, the results were confounded by other possible impacts on the microbiome such as diet, living conditions, and medications that also change with age. Here, we have used a mouse model that allows us to control for these factors, and we have observed taxonomic and functional changes in the microbiome that correlate with age and frailty. Consistent with an earlier study of frail humans, the genus Alistipes was found to be overrepresented in old mice, suggesting there may be some parallel shifts that occur in aging human and mouse populations. Further, we identify several additional bacterial taxa and functions that may be associated with the aging process. Our results suggest that the aging microbiome could have an effect on the availability of vitamins (B12 and B7) and creatine, DNA repair, and carbohydrate metabolism as well as the potential to interfere with some drug treatments.
Further work with larger mouse cohorts, particularly older mice with a range of frailty scores, will be needed to separate the effects of frailty and aging on the microbiome. Larger longitudinal studies would also clarify the relationship between specific clinical attributes and changes to the microbiome during aging. For example, previous work showed a steady increase in mouse weight up to a peak at 15–20 months, followed by a steady decline as the mice age [60]. The microbiomes of obese individuals tend to have different taxonomic and metabolic properties [61]; there may be corresponding weight-associated microbiome shifts as mice age. Another important factor within this study is the possible role of cage effects on the microbiome. Hildebrand et al. showed that up to 30% of the variation in the microbiome can arise from cage effects, possibly due to coprophagy [62], and the authors recommended that groups of interest be housed in the same cage, or individually. However, neither of these approaches is appropriate since solitary cages for the entire life of a mouse can induce high levels of stress [63] which may in turn influence the microbiome, while a single cage for all mice is not practical for large-scale animal studies. Explicit tests of housing strategies are needed to examine the effects of this important factor. Although larger studies will be necessary to reveal the fine details of aging, frailty, and the microbiome, our results show that the mouse microbiome changes throughout various life stages and suggests that similar changes in humans may have a significant effect on health.
Availability of supporting data
Abbreviations
gDNA:

Genomic DNA
PCA:

Principal component analysis
PCoA:

Principal coordinate analysis
SCFA:

Short-chain fatty acid
Declarations
Acknowledgements
This work was supported by the Canadian Institutes of Health Research (CIHR) through an Emerging Team Grant to RGB, CIHR Operating Grants to SEH (MOP 126018) and RAR (MOP 93718), and a CIHR Fellowship to MGIL. Infrastructure was supported by the Canada Foundation for Innovation through a grant to RGB. RGB also acknowledges the support of the Canada Research Chairs program. The authors are grateful to Jocelyne Whitehead and Dr. Giban Ray for excellent technical assistance with the mouse frailty index and sample collection procedures.
Authors' Affiliations
(1)
Department of Pharmacology, Dalhousie University, Halifax, Canada
(2)
Faculty of Computer Science, Dalhousie University, Halifax, Canada
(3)
Mycobacteriology Unit, Institute of Tropical Medicine, Antwerp, Belgium
(4)
Department of Physiology and Biophysics, Dalhousie University, Halifax, Canada
(5)
Department of Medicine (Geriatric Medicine), Dalhousie University, Halifax, Canada
Copyright
© Langille et al.; licensee BioMed Central Ltd. 2014
This article is published under license to BioMed Central Ltd. This is an Open Access article distributed under the terms of the Creative Commons Attribution License (http://creativecommons.org/licenses/by/4.0), which permits unrestricted use, distribution, and reproduction in any medium, provided the original work is properly credited. The Creative Commons Public Domain Dedication waiver (http://creativecommons.org/publicdomain/zero/1.0/) applies to the data made available in this article, unless otherwise stated.