Ovarian cycling and reproductive state shape the vaginal microbiota in wild baboons
Received: 23 May 2016
Accepted: 4 January 2017
Published: 19 January 2017
Abstract
Background
The vaginal microbiome is an important site of bacterial-mammalian symbiosis. This symbiosis is currently best characterized for humans, where lactobacilli dominate the microbial community and may help defend women against infectious disease. However, lactobacilli do not dominate the vaginal microbiota of any other mammal studied to date, raising key questions about the forces that shape the vaginal microbiome in non-human mammals.
Results
We used Illumina sequencing of the bacterial 16S rRNA gene to investigate variation in the taxonomic composition of the vaginal microbiota in 48 baboons (Papio cynocephalus), members of a well-studied wild population in Kenya. Similar to prior studies, we found that the baboon vaginal microbiota was not dominated by lactobacilli. Despite this difference, and similar to humans, reproductive state was the dominant predictor of baboon vaginal microbiota, with pregnancy, postpartum amenorrhea, and ovarian cycling explaining 18% of the variance in community composition. Furthermore, among cycling females, a striking 39% of variance in community composition was explained by ovarian cycle phase, with an especially distinctive microbial community around ovulation. Periovulatory females exhibited the highest relative abundance of lactic acid-producing bacteria compared to any other phase, with a mean relative abundance of 44%. To a lesser extent, sexual behavior, especially a history of shared sexual partners, also predicted vaginal microbial similarity between baboons.
Conclusions
Despite striking differences in their dominant microbes, both human and baboon vaginal microbiota exhibit profound changes in composition in response to reproductive state, ovarian cycle phase, and sexual behavior. We found major shifts in composition during ovulation, which may have implications for disease risk and conception success. These findings highlight the need for future studies to account for fine-scale differences in reproductive state, particularly differences between the various phases of the ovarian cycle. Overall, our work contributes to an emerging understanding of the forces that explain intra- and inter-individual variation in the mammalian vaginal microbiome, with particular emphasis on its role in host health and disease risk.
Keywords
Vaginal microbiomePrimateReproductive stateOvulationTransmission
Background
The composition of the human vaginal microbiome varies considerably between individuals and within the same individual over time [1, 2]. Such variation is important because it can have major consequences for a woman's vaginal health, disease risk, and fertility [3–5]. In contrast to humans, we know very little about the causes and consequences of inter-individual variation in the vaginal microbiomes of non-human mammals. Furthermore, human vaginal microbiomes differ considerably from those of other mammals, including other primates [6], raising key questions about whether the forces that shape the human vaginal microbiome are unique to humans or are shared with other primates or mammals. Answering this question is important to understanding both (i) the generalizability of factors that explain inter-individual variation in the vaginal microbiome in different species and (ii) the ways in which non-human primates can serve as useful models for human vaginal microbial communities.
Unlike other primates, the human vaginal microbiota is usually dominated by members of the genus Lactobacillus, which typically comprise 70% or more of resident bacteria [1, 2]. Lactobacilli dominance is important for understanding both the forces shaping the human vaginal microbiome as well as its hypothesized functional properties. Specifically, lactobacilli produce lactic acid from the breakdown products of glycogen (e.g., maltose) in vaginal fluid [7–13]. This reaction creates an acidic environment (pH ≤ 4.5) that is thought to protect women against sexually transmitted diseases (STDs) and inhibit the proliferation of opportunistic endogenous bacteria ([10, 14, 15], reviewed in [4]). Indeed, the loss of a lactobacilli-dominated community and subsequent increase in vaginal pH can lead to the overgrowth of anaerobic bacteria, referred to as bacterial vaginosis (BV), which is associated with infertility, preterm birth, maternal infections, and increased risk of STDs [3, 16–19].
In humans, a variety of endogenous and exogenous factors alter the relative abundance of Lactobacillus and vaginal microbial composition [20, 21]. In particular, estrogen stimulates the proliferation of the vaginal epithelium, increasing available glycogen in the vagina [22, 23]. As such, the bacterial composition of the vaginal microbiome is strongly affected by normal fluctuations in estrogen that occur during puberty and menopause, between reproductive states, and over the menstrual cycle (e.g., [24–26]). In particular, estrogen peaks during ovulation and this peak is linked to high relative abundance of Lactobacillus spp., low microbial diversity, low vaginal pH, and a stable bacterial community [2, 27, 28]. In addition to estrogen, sexual contact and exposure to maternal bacteria during birth may also influence the vaginal microbiome. During sexual contact, transmission of novel bacteria or neutralization of vaginal acidity by seminal fluid may impact the vaginal environment [29–33]. In support, sexual promiscuity is linked to greater instability in vaginal bacteria and increased risk of BV [20, 34, 35]. Additionally, close contact with the mother's vaginal canal during birth leads to the vertical transmission of maternal vaginal bacteria to offspring [36–38].
In contrast to humans, the vaginal microbiota of non-human primates (NHPs)—at least all NHPs studied to date—have few lactobacilli (typically <2% of resident bacteria) and much higher taxonomic diversity than humans [
6
,
21
,
39
–
42
]. Given these differences, it is unclear whether reproductive state, especially states linked to relatively high or low estrogen levels, will also be associated with predictable changes in NHP vaginal microbiota. Similarly, the effects of sexual contact or vertical transmission on NHP vaginal microbiota are not well understood. To address these gaps, we tested the association between reproductive state, ovarian cycle phase, sexual behavior, and vertical transmission and inter-individual differences in vaginal microbial composition in a well-studied population of wild baboons (
Papio cynocephalus
) living in the Amboseli ecosystem in Kenya. Similar to other NHPs, baboon vaginal microbiota are characterized by low levels of
Lactobacillus
spp., high microbial diversity, and high vaginal pH compared to humans [
6
,
39
,
40
,
43
,
44
]. Baboons also exhibit well-documented changes in external genital morphology that indicate female reproductive state and ovarian cycle phase, including pregnancy, postpartum amenorrhea, and four distinct stages of ovarian cycling (including ovulation; Fig.
1
) [
45
–
47
]. However, like humans, baboons reproduce year-round: when not pregnant or in postpartum amenorrhea, baboons experience ~34-day ovarian cycles and can conceive at any time of the year [
48
,
49
]. Also similar to humans, estrogen and vaginal glycogen are highest in baboons around ovulation and decrease during anestrus (i.e., menses)[
46
,
50
–
52
]. Hence, if baboon vaginal microbiota experience dynamics similar to those in humans, we would expect to observe relatively high levels of lactic acid-producing bacteria during the periovulatory period and relatively low levels during low estrogen periods such as anestrus.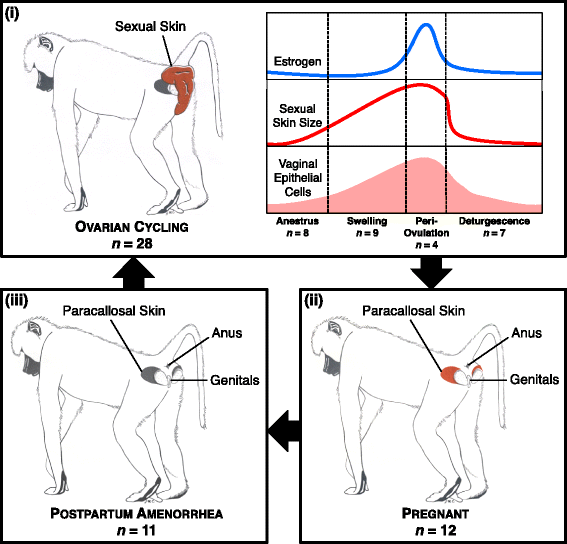 Our primary objective was to test the effects of reproductive state and ovarian cycle phase on the microbial composition of the baboon vaginal microbiome in order to understand whether the reproduction-related changes in baboon vaginal microbiota are parallel to those in humans. In addition, we used data on the baboons' sexual contacts and maternal relationships to test for evidence of horizontal and vertical transmission in the vaginal microbiota. We also explored other variables that may shape inter-individual differences in baboon vaginal microbiota, including kinship, age, dominance rank, social group size (as a measure of available sexual partners), and rainfall (which may affect bacterial exposures in the environment). Finally, we measured vaginal pH in a separate set of subjects from the same population to understand the relationship between reproductive state and vaginal pH. To our knowledge, this data set represents the largest sample size and the greatest sequencing depth of the vaginal microbiota in a wild, non-human mammal to date. Our results improve our understanding of the factors that shape natural variation in the mammalian vaginal microbiome and provide valuable groundwork for further investigation on how vaginal microbiota contributes to host health and disease risk.
Discussion
To date, the majority of research on the vaginal microbiome of non-human primates has used captive animals (e.g., [6, 39, 41–43, 78]). Recently, several authors have called for greater use of wild subjects in studies of the microbiome, in part because of strong effects of captivity on host-associated microbial communities [79–81]. The study described here is, to our knowledge, only the third to investigate vaginal microbiota composition in wild primates; notably, the previous two studies were restricted to small sample sizes and lacked of information on host reproductive state [6, 77]. Thus, this work represents the most comprehensive investigation of inter-individual variation in the vaginal microbiota in a wild, non-human primate population.
All primates studied to date, in either captive or wild settings, lack the Lactobacillus spp. dominance typically found in human vaginal microbiota, raising questions about whether the forces that shape the human vaginal microbiome are also important in other primates and mammals. Despite low relative abundance of lactobacilli, we found that many of the same predictors of human vaginal microbiota are also important in wild baboons. Specifically, reproductive state and ovarian cycle phase—especially ovulation—were linked to distinct vaginal microbial communities, which may have consequences for functional aspects of the vaginal microbiome. In addition, females with similar sexual histories also had more similar vaginal microbiota. Together, these results suggest that, despite large differences in vaginal community composition, similar forces influence the communities of humans and non-human primates, laying important groundwork for further comparative work on how vaginal microbiota contribute to host health and disease risk across primates.
Responses of the vaginal microbiota to host reproductive state and ovarian cycle phase
In humans, reproductive state (cycling, pregnancy, or postpartum amenorrhea) is the dominant force shaping the vaginal microbiome [26, 82–84]. These effects are primarily attributed to changing levels of estrogen, which affect the abundance of glycogen in vaginal mucus—a key resource for energy metabolism by lactobacilli [85]. Similar to humans, we found that reproductive state is also the primary driver of inter-individual variation in baboon vaginal microbiota, and many of the patterns we observe are consistent with the idea that fluctuations in estrogen and glycogen drive baboon vaginal microbial dynamics. For instance, like humans, glycogen is lowest in baboon vaginal mucus during both pregnancy and postpartum amenorrhea and highest during ovarian cycling [52]. Paralleling this pattern, the family Aerococcaceae, particularly the genus Facklamia, is prolific during pregnancy and PPA in female baboons, but rare during ovarian cycling. Since Aerococcaceae cannot metabolize glycogen directly and variably ferment maltose [86], the low relative abundance during cycling suggests this taxa is being outcompeted by other bacteria, such as Sneathia and Prevotella, that can metabolize glycogen directly and thus may thrive in a glycogen-rich environment (or, conversely, be more easily outcompeted by Facklamia in a glycogen-poor environment) [87, 88].
Within cycling female baboons, estrogen and vaginal glycogen fluctuate across ovarian cycle phases, with the highest levels around ovulation and lowest during anestrus [46, 50–52]. We find that the relative abundance of lactic acid-producing bacteria (LAB) follows a similar pattern, with an increase around ovulation and decrease during anestrus. Such changes are expected to reduce lactic acid production, and indeed, in baboons, we observe lower vaginal pH during the swelling phase of the ovarian cycle compared to anestrus. Similar patterns of vaginal pH have been observed over the human menstrual cycle, with a drop in pH during the follicular phase, and an increase during menses [27, 89].
It is worth noting that our findings differ from a prior study on the vaginal microbiota of cycling female baboons [43]. In contrast to our results, Uchihashi et al. [43] found no differences between females experiencing different ovarian cycle phases. There are two possible reasons for this finding. First, Uchihashi et al. studied captive baboons, and prior work has found that host-associated microbial communities can be altered by captivity [40]. Second, and probably more importantly, Uchihashi et al. did not make fine-scaled distinctions between different female ovarian cycle phases. For instance, Uchihashi et al. combined swelling, periovulatory, and deturgescence phases into a single category ("cycling") and separated menstruating females from those that we termed anestrus (i.e., "non-cycling"). When we reanalyze our data based on Uchihashi et al.'s categories, we still observe significant differences in community composition between cycling and non-cycling females, but there were no significant differences in community composition between menstruating and non-menstruating females. Combining across cycle phases is common in the literature because it can be challenging to assign female mammals to the correct ovarian cycle phase. However, our results highlight the importance of these characterizations for understanding variation in the vaginal microbiota.
The role of lactic acid-producing bacteria during ovulation
Consistent with previous work, we find that Lactobacillus is rare in the baboon vaginal microbiota, especially compared to humans [6, 39, 40, 43, 44]. From a functional standpoint, aspects of human physiology may make the human vagina more lactobacilli-friendly than other animals. For example, humans have significantly higher glycogen and lactic acid levels in vaginal fluid compared to macaques [90]. From an evolutionary perspective, differences in the vaginal microbiome between humans and NHPs may have arisen as a result of variation in sexual behavior and disease risk [6, 21]. Specifically, continual sexual receptivity and long intromission may expose humans to more pathogens (particularly STDs) compared to NHPs, leading to selection for a lactobacilli-dominated community [6, 21]. By extension, since STDs are not unique to humans, one might predict that NHPs should have the most protective microbial community when sexual activity and disease risk are greatest [91, 92]. For example, in baboons, the majority of sexual contact takes place within the second half of the swelling phase and periovulation [48]. Correspondingly, we observe the highest levels of LAB during this period, and find that BV-related bacteria are abundant during the periovulatory period, indicating that ovulation may be a time of high disease risk. In a separate data set, we also observe the lowest vaginal pH near this time; however, even the lowest vaginal pH measurements we recorded (pH = 5.5) were higher than what is considered protective and healthy in human women, whose vaginal pH typically ranges from 3.5 to 5.0 [1, 11, 85]. This suggests that defense mechanisms other than pH may also be at work in baboons, such as competitive exclusion, production of bacteriocins and other antimicrobial compounds [93, 94], and microbial interaction with the host immune system [95].
In addition to a possible protective function, the unique microbial community associated with the periovulatory phase may also have implications for sexual attraction. While male baboons typically identify sexually receptive females based on visual signals, such as sexual swellings [48], there is debate about how males choose one ovulating female over another (e.g., [96]). Vaginal microbiota may generate unique olfactory cues that signal ovulation, female 'quality', or likelihood of conception [97]. Indeed, work in a wide range of animals, including humans, suggests that many bacteria produce volatile compounds that can convey information about their hosts [98, 99]. For example, in humans, levels of volatile organic acids, including lactic acid, change over the human menstrual cycle [2], which may influence the attractiveness of female vaginal secretions [100].
Transmission of vaginal bacteria
Past work in a wide range of animals indicates that microbial transmission occurs between sexual partners and from mother to offspring during birth [92, 101, 102]. While we find no evidence that vertical transmission exerts long-term effects on the vaginal microbiota of adult female baboons, our results do suggest that sexual contact leads to horizontal transmission of baboon vaginal bacteria. It is well established that copulation facilitates the spread of pathogens, and that multiple sexual partners can further increase the risk of infection [103, 104]. However, recent work suggests that commensal, and even beneficial, bacteria are also being transmitted between partners during sexual contact [102]. Thus, more promiscuous mating systems may promote exposure to these beneficial microbes [105]. In humans, there is some evidence for the sharing of commensal bacteria between sexual partners [30, 31], but, to our knowledge, our study provides the first evidence in a non-human primate that sharing sexual partners can result in similar commensal microbial communities. Interestingly, our results also suggest that an increased number of sexual partners may perturb the vaginal microbiota and reduce microbial alpha diversity. Indeed, in humans, promiscuity has been linked to greater instability in vaginal bacteria [20] and BV [106, 107]. However, it is yet to be determined whether these changes are due to the introduction of novel bacteria or neutralization of the vaginal environment due to repeated insemination [29].
Conclusions
Like other non-human primates, baboons lack the Lactobacillus spp. dominance typically found in the human vaginal microbiome. Despite this difference and similar to humans, we found that reproductive state was the strongest predictor of the baboon vaginal microbiota, with effects on both microbial composition and pH. These results highlight the importance of accounting for fine-scale differences in reproductive state and emphasize the need for future studies to include this information whenever possible. Moreover, we found that during ovulation, the baboon vaginal microbiota exhibited traits reminiscent of those observed in humans, which are believed to defend against pathogens. This included the highest levels of lactic acid-producing bacteria, which predicts the lowest vaginal pH. Overall, our findings suggest that the vaginal microbiome of humans and baboons are under similar selective forces, which indicates these forces may be fundamentally important to many mammals. However, the unique nature of the human vaginal microbiome suggests that other factors shape vaginal microbial communities in humans. Future work should focus on disentangling the evolutionary pressures common to all mammals and those that are unique to humans.
Abbreviations
A:

Anestrus
BV:

Bacterial vaginosis
C:

Ovarian cycling
D:

Deturgescence
LAB:

Lactic acid-producing bacteria
LDA:

Linear discriminant analysis
LEfSe:

Linear discriminant analysis effect size
NHP:

Non-human primate
O:

Periovulation
OTU:

Operational taxonomic unit
P:

Pregnant
PCoA:

Principal coordinates analysis
PPA:

Postpartum amenorrhea
S:

Swelling
STD:

Sexually transmitted disease
Declarations
Acknowledgements
We thank the Kenya Wildlife Service, Institute of Primate Research, National Museums of Kenya, National Commission for Science Technology and Innovation, members of the Amboseli-Longido pastoralist communities, Tortilis Camp, and Ker & Downey Safaris for their assistance in Kenya. Particular thanks to R. Mututua, S. Sayialel, J. Warutere, V. Somen, and T. Wango in Kenya, and J. Altmann, K. Pinc, N. Learn, P. Onyango, and J. Gordon in the US. We also thank S. Morrow for lab assistance, M. Clark, D. Jansen, and L. Grieneisen for help with the data processing pipeline and statistical analyses, and M. Akinyi and A. Lea for assistance with the vaginal pH measurements.
Funding
This work was supported by the National Science Foundation Graduate Research Fellowship (NSF DGE-1313583). Support for the Amboseli Baboon Research Project was provided by the National Science Foundation (most recently IOS 1053461 to EAA and DEB 0919200 to SCA) and the National Institute of Aging (R01 AG034513 and P01 AG031719 to SCA).
Availability of data and materials
Raw sequencing files and associated metadata have been deposited in NCBI's Sequence Read Archive (SRA Accession: SRP076531), https://0-www-ncbi-nlm-nih-gov.brum.beds.ac.uk/sra. Sample metadata are uploaded as an additional file associated with this manuscript (Additional file 2: Table S1) and will also be made available on Dryad, http://datadryad.org/. The unrarefied OTU table with taxonomic classifications will also be made available on Dryad.
Authors' contributions
EA, JT, and EM conceived and designed the research. EM performed the laboratory experiments. EM, JL, EA, and JT analyzed the data. JT, EA, and SA provided samples, reagents, and metadata. EM and EA wrote the manuscript with input from all authors. All authors read and approved the final manuscript.
Competing interests
The authors declare that they have no competing interests.
Consent for publication
Not applicable.
Ethics approval
All protocols adhered to the laws and guidelines of Kenya (Kenya Research Permit numbers NCOSTI/P/14/2921/3128 to EAA, NCST/RCD/12B/012/57 to JT, and NCST 5/12B/012/55 to SCA). All protocols were approved by the Animal Care and Use Committees at the University of Notre Dame (13-11-1352), Duke University (A0840903), and Princeton University (1689).
Open AccessThis article is distributed under the terms of the Creative Commons Attribution 4.0 International License (http://creativecommons.org/licenses/by/4.0/), which permits unrestricted use, distribution, and reproduction in any medium, provided you give appropriate credit to the original author(s) and the source, provide a link to the Creative Commons license, and indicate if changes were made. The Creative Commons Public Domain Dedication waiver (http://creativecommons.org/publicdomain/zero/1.0/) applies to the data made available in this article, unless otherwise stated.
Authors' Affiliations
(1)
Department of Biological Sciences, University of Notre Dame, Notre Dame, USA
(2)
Institute of Primate Research, National Museums of Kenya, Nairobi, Kenya
(3)
Department of Evolutionary Anthropology, Duke University, Durham, USA
(4)
Duke Population Research Institute, Duke University, Durham, USA
(5)
Department of Biology, Duke University, Durham, USA